A complementary resource
Ensuring that different energies and sources of energy complement one another is a solution that supports the reduction of greenhouse gas. Wind power is a renewable energy, just like hydroelectricity, solar energy and renewable natural gas.
Since 1999
Québec counts 43 sites with wind turbines which produce 3,256 MW of electricity.* The first wind turbines appeared in Cap Chat in 1999. Wind is particularly strong in Québec, even more so in winter, which makes it a territory well suited for the production of wind power.
Clean energy
Locally produced and renewable, wind power emits no pollution when it is transformed into electrical energy, since it requires no fuel.
How it works
Wind power is generated by the force wind exerts on the blades of a turbine causing them to rotate. The generator connected to the blades converts mechanical energy, produced by the rotation of the blades, into electrical energy. It is then transported by cables inside the tower and in an underground network to the substation. From there, the electricity's voltage is increased and once again decreased before being distributed to consumers via Hydro-Québec's network.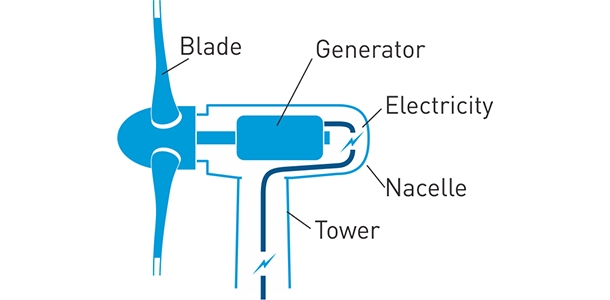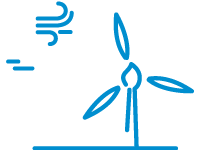 Wind turbines begin turning when wind reaches a speed of 12 km/h. For safety reasons, they stop automatically when wind exceeds 90 km/h. The optimal speed is 50 km/h.

In spite of its impressive height of up to 140 metres, a wind turbine is quite quiet. From 500 m away, its noise level of 40 decibels is comparable to a calm library.
Source: Seigneurie de Beaupré
Great successes
The Seigneurie de Beaupré wind farm is among the largest in the country. With its 154 wind turbines totalling an installed capacity of 340 MW, it generates enough electricity to satisfy the annual consumption of more than 65,000 homes. Énergir also has two wind farms in Vermont thanks to its investments in Green Mountain Power.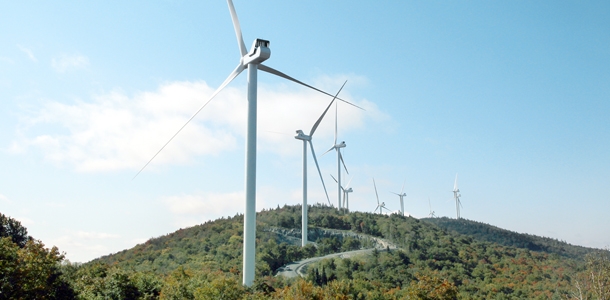 A solution for remote regions
Installing a wind turbine to generate electrical energy may be a solution for remote regions where electrical networks are unavailable. The Raglan mine in the Far North is a good example. By installing a powerful 3 MW wind turbine specially adapted to withstand extreme weather, the company is able to reduce greenhouse gas emissions by over 2,600 tons per year.
Photo : Justin Bulota, Copyright © 2016, Tugliq
Ingenuity is in the air
The four strong winds do more than just blow—they also give us a source of clean energy. Énergir knows that sustainable development means diversifying our energy sources, so it(…)
* Source: Techno Centre Éolien