— Charts comparing annual fuel costs1 for a garbage truck that consumes an average of 62 liters of diesel per 100 km. Based on an annual consumption of 37 200 liters of diesel. The natural gas costs represent a compressed natural gas engine (CNG).
An economical solution
In addition to lowering costs, you can reduce your greenhouse emissions by as much as 25% by choosing natural gas. Switching to blue lets your municipality, your budget and the planet breathe a little better.
Two options for reducing GHGs
Natural gas from traditional sources: in its compressed form (3,600 psi for storage in vehicle fuel tanks), natural gas for vehicles can reduce up to 20% of GHG emissions.

Renewable natural gas (RNG): derived from landfills or from organic matter and agricultural waste, RNG can also be compressed and used to power vehicles with 100% locally produced carbon-neutral energy.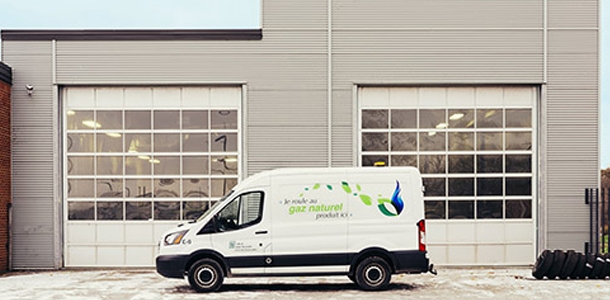 A fuel suitable for different types of vehicles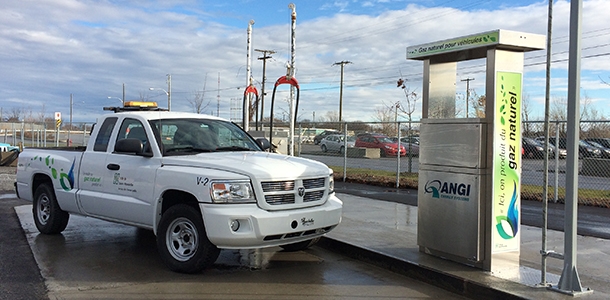 Choose an alternative fuel for reducing GHGs, air pollutants and noise.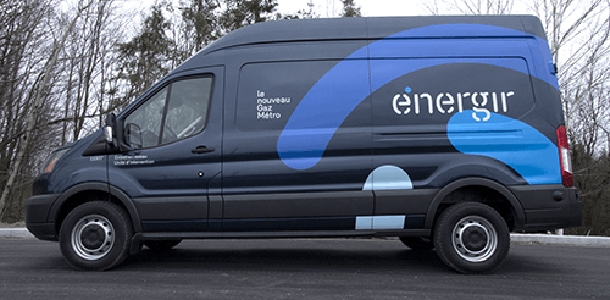 Make your light vehicles carbon-neutral with a natural gas- and biomethane-powered engine!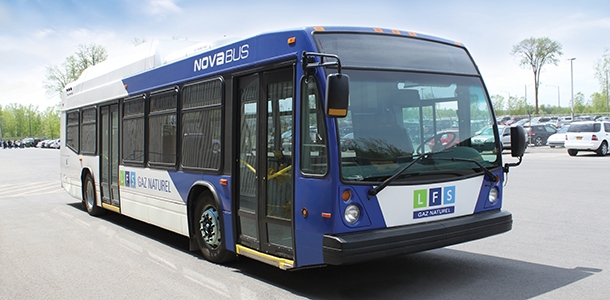 Did you know that in North America 30% of buses run on natural gas?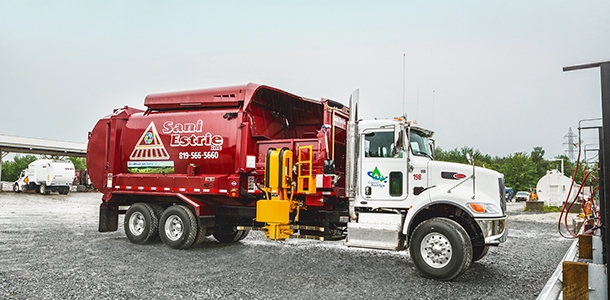 Did you know that in North America 30% of buses run on natural gas?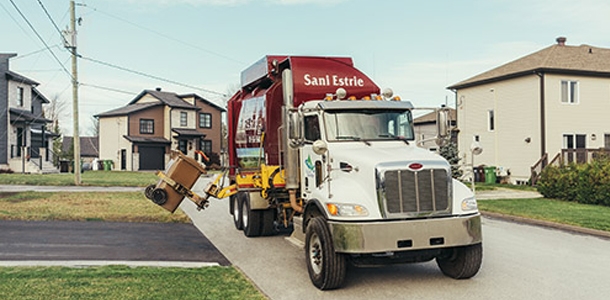 Grants
Obtain grants of up to $30,000 for the purchase of a natural gas truck through the Écocamionnage program. Énergir also offers grants for the installation of a private fuelling station.

Under the Electric Vehicle and Alternative Fuel Infrasture Deployment Initiative, Natural Resources Canada will pay up to 50% of eligible costs to a maximum of $1 million for the construction of a public fuelling station.
The fuelling stations
Strategically placed public fuelling stations cover major road corridors across Québec. A public fuelling station in your area will offer additional benefits to local citizens and to truck drivers travelling through. You can also invest in your own private station to fuel your municipal vehicle fleet— perfect for using your own locally produced renewable natural gas!

Rivière-des-Prairies/Pointe-aux-Trembles
In March 2016, the Rivière-des-Prairies-Pointe-aux-Trembles borough purchased a natural gas-powered dump truck—a first for the City of Montréal.

"I'm so proud that our borough has pioneered this transition to natural gas. It's part of a sustainable development pilot project that aims to reduce greenhouse gases."
Chantal Rouleau, borough mayor
Need more information?
Contact our municipal affairs team with your questions.
1. According to the prices in effect from July 1, 2021 to August 31, 2022. Based on Énergir rates approved by the Régie de l'énergie; takes into account base electric consumption and rack price of oil with 2% sulfur including, in particular, transport, distribution and CATS.