About LNG
CNG has exactly the same properties as natural gas in its gaseous state. However, it can be stored at 300 times atmospheric pressure, which reduces the volume by an equal amount. Transported in high pressure tanks, it is the ideal choice for short-range daily trips.
Supply dynamics
To fuel vehicles with CNG, the natural gas from Énergir's gas network is first compressed to occupy 300 times less space than diesel or gasoline. The CNG is then stored in high pressure tanks at fueling stations along the Blue Road. There are currently 18 fueling stations supplying CNG for light, medium and heavy vehicles on short-range daily trips, providing up to 1,000 km of travel per full tank.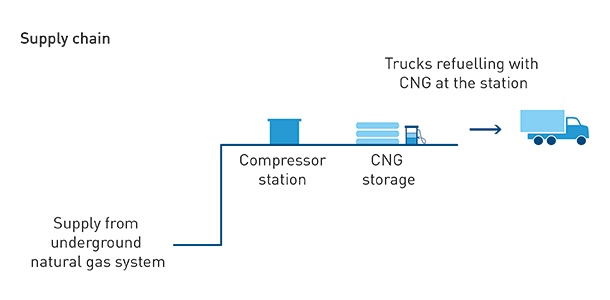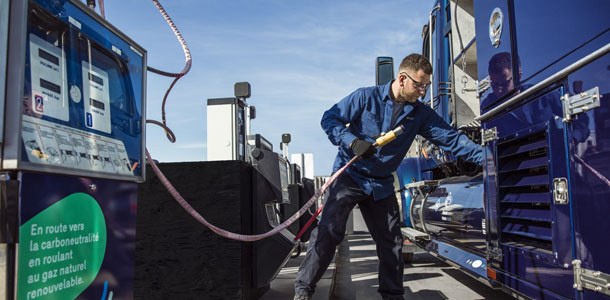 The Blue Road, a growing network of resorts
Introduced in 2011, the Blue Road is the first public network of compressed and liquefied natural gas refueling stations for Canada's transportation industry. Some of the stations are located along the corridor of highways A-20/H-401, between Quebec City and Toronto. As deployment of the Blue Road continues, compressed or liquefied natural gas fueling points will be added in a strategic, flexible manner at various Quebec and Ontario locations.
CNG is used in a number of sectors
Compressed natural gas meets several categories of need including waste collection, passenger transportation (long distance, inter-city) and freight transportation.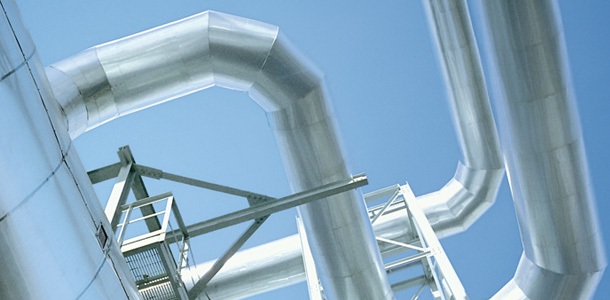 The use of natural gas is also widespread in the industrial sector
Énergir's clientele includes aluminum plants and businesses in the mining, papermaking, agrifood and metallurgy sectors, all of which consume nearly half of the company's natural gas deliveries. Since natural gas is the only energy source with a high enough calorific value to replace heavy fuel oil, industries use it not only to heat air and water, but also for processing methods .
Clean and economical energy
Less costly than electricity and heavy fuel oil, natural gas can cut the energy bills of businesses and industries in half. Opting for natural gas also means choosing to reduce their greenhouse gas emissions. When a plant uses natural gas instead of oil, it cuts its greenhouse gas emissions by up to 32%, it almost completely abolished the emissions of nitrogen oxides and sulfurs (those responsible for acid rain ) as well as the fine particles and it saves up to 40% on energy costs — key to continued development and improved profitability.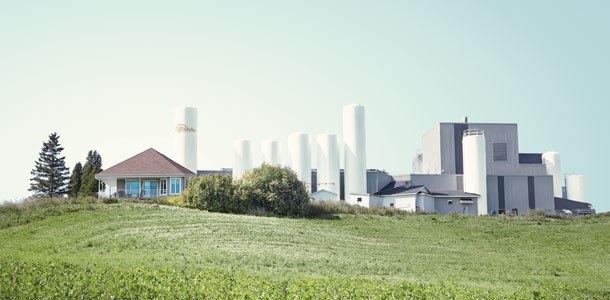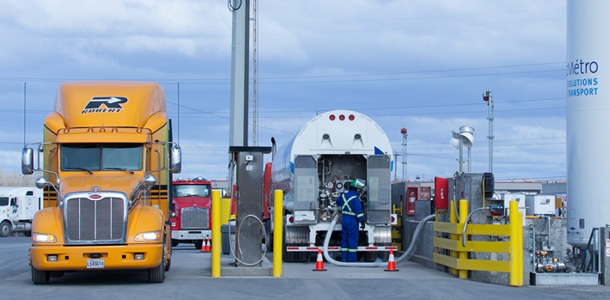 Natural gas is also a fuel
Liquefied natural gas and compressed natural gas motors are a proven technology commonly used for many years in road and maritime transport worldwide. As the best alternative fuel to diesel or gasoline for heavy-duty vehicles, natural gas in transportation also reduces GHG emissions by as much as 25%.
Blog articles on natural gas in transportation
Natural gas is gaining popularity in Quebec as the choice for fuel. Stay abreast of the latest developments in this market through articles published on our blog.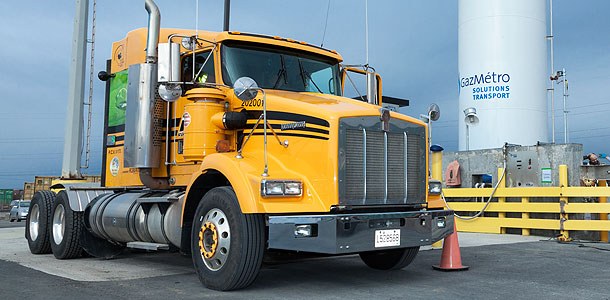 Natural gas takes to the road
Is natural gas about to dethrone diesel to become the road transport fuel of the 21st century? That prediction may seem bold, but the more and more rapid adoption...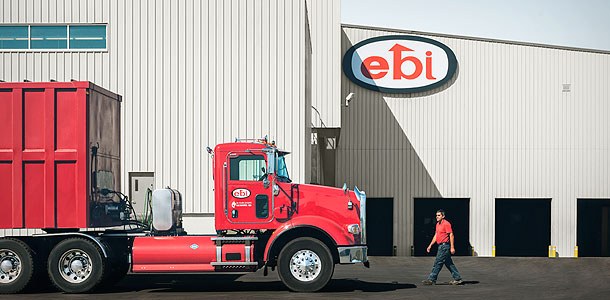 Natural gas and transportation – it's just a start!
Barely five years ago, trucks running on natural gas were still quite rare. And now they are increasing in number on Quebec's highways. More economical and...
Other forms of natural gas
There are several forms of natural gas, allowing citizens to consume better and less. Renewable to give our waste a second life, compressed or liquefied to replace diesel as a fuel, natural gas is an energy that meets a variety of needs.
Énergir, more than natural gas!
We believe diversity is key to the future of energy. This is why Énergir is involved in developing solar and wind power and hydroelectricity.