Engineers section
Find the information you need to determine whether your project is connected to the gas network, learn about the most efficient natural gas solutions, or use the tools and resources developed to make your job easier and answer your questions.
Natural gas: An asset for your projects
The performance and high efficiency of natural gas equipment make it an unbeatable option for your clients' projects. Coupled with recently developed modern solutions, natural gas is an energy that is perfectly adapted to all types of projects, from small buildings to tall towers. Find out more!

Residential Technology Solutions
Commercial Technology Solutions
Energy efficiency
Énergir subsidizes high-efficiency appliances and energy efficiency measures to help clients complete their projects. Since 2001, our energy efficiency grant programs have reduced GHG emissions by more than 1.2 million tons!
Grants - high-efficiency appliances
Heating
Energy efficiency

grant

Condensing boiler

Eligible equipment
< 300,000 BTU
> 300,000 BTU

90%+ efficiency
Heat recovery on combustion products.

$900 to $25,000

Mid-efficiency boiler

85%+ efficiency
Rapidity in producing even heat in a given space.
$600 to $10,000


Infrared heating unit

High-efficiency solution
Ultra-efficient for heating large spaces like warehouses and garages.

$200 to $500 per unit


Condensing unit heater

Energy savings
Given the high efficiency of condensing appliances.

Up to
$2,900/unit

Smart thermostat

Eligible equipment

Energy savings
Control heating and air conditioning system remotely via the Internet or a mobile app.

$100/unit
Up to 75% of the cost of the device
Hot water
Energy efficiency

grant

Condensing water heater

90%+ efficiency
For domestic hot water needs..

$750 to $20,000
Ventilation



Variable speed hood

35%-40% reduction
in energy consumption by modulating air extraction in line with what's going on in the kitchen.

$3,500* + $0.45/CFM per exhaust system

* See program conditions.
Grants - energy efficiency measures
Measures available
Energy efficiency

grant

Solar air preheating

- Participant guide

To encourage the installation of solar air preheating system for space heating or processes and preheating water.

$2/m 3 natural gas saved
Up to $200,000

Energy efficiency measures

To encourage the implementation of energy efficiency measures that optimize the use of natural gas.
30¢/m 3 natural gas saved
Up to $100,000
New efficient construction

- Participant guide

To encourage the construction of energy efficient buildings.

$5/m3 natural gas saved
Up to $325,000
Measures available
Energy efficiency

grant
Feasibility study

Participant guide
Reimbursement of part of the cost of a study on energy efficiency measures.
50% of the cost of the study
Up to $25,000
Recommissioning

Participant guide

A 10%–15% reduction in consumption through the recommissioning of
mechanical systems.
Obtain up to 50% off the cost of projects

Energy-efficient renovations

- Participant guide

Improve the thermal envelope of buildings.

Up to $40,000 (consumption ≤ 150,000 m 3 /year)
Up to $100,000 (consumption
> 150,000 m 3 /year)
Registered firms are consulting engineering firms specializing in energy efficiency that can support Énergir customers in identifying and implementing energy efficiency projects. Having already carried out energy efficiency projects for Énergir customers, and with access to information about the energy efficiency grants offered, these firms are well placed to guide customers and facilitate their participation in Énergir's energy efficiency grant programs

Énergir has made a directory of registered firms available to its customers. This directory is meant to be a tool to help customers identify and find contact details of firms that offer energy efficiency services. None of these firms is a subsidiary or partner of Énergir, and making this directory available in no way certifies, attests to, or guarantees the quality of the services offered by these firms.

Consult the list of registered firms
Register your firm by sending an e-mail to [email protected]
Tools and publications
Énergir has developed numerous calculation tools to facilitate your projects and it regularly publishes articles and information about new techniques to help you stay on top of the latest technological innovations.
Natural gas solutions are efficient, economic and ideal for your customers' energy projects. To assist you in designing these solutions, we have created tools comprising best practices developed in collaboration with experts and recognized professional associations in the field.

Looking for help in designing these natural gas solutions?


Small commercial buildings
Heating systems
Rooftop unit, unit heater and infrared heating system




Multidwelling and tall buildings
Centralized hot water systems
Centralized hot water system

Conversion factors
With our unit of measurement converter, you can convert gigajoules into cubic meters, cubic feet into BTU, or carry out any other conversion you need to make.
Weather calculation (hour BIN)
This calculator offers up-to-date weather data to calculate degree-day data for space heating and cooling.

Ventilation calculator
In addition to offering up-to-date weather data, this tool allows you to determine how much natural gas your ventilation system might consume and the energy savings you could generate if you opt for heat recovery.
Rooftop units energy savings calculator
Use our calculator to estimate energy savings with efficient rooftop units.
Natural gas pipe sizing
Based on the formulas in sections A.3.5 and B.3.5 of CSA B149.1-10 – Natural gas and propane installation code, this calculator estimates the maximum natural gas and propane capacity specifically for plastic and schedule 40 (SCH 40) blowjob. For copper tube estimates, refer to tables A.8 through A.14 and B.6 through B.10 in CSA B149.1-2010.
SPEC tool
This simulation tool was developed to calculate the energy efficiency of your steam boiler room. This is a key step to fully understanding the effectiveness of your steam boiler room and making informed decisions. Plus, you can assess the potential energy savings for five parameters (the most popular): economizers, blowdown reduction, blowdown recovery, micro-modulation and deaerator vent recovery.
Sign up for our email newsletters
The DATECH team prepares articles for engineers to keep them up to speed on the latest industry news that could be relevant to their projects. Here are two tools you can sign up for:
Bulletin blue engineers (French only)
Three mailings a year
Short articles on the latest industry news, energy efficiency grants available, and our upcoming events and training sessions.
Would you like to be on our mailing lists?
Informa-TECH
Three mailings a year
Technical articles on various innovative topics such as minimalist ducts, or case studies featuring high-efficiency installations.
DATECH-Group
These specialized Énergir engineers work closely with our commercial representatives to offer you the technological solutions that are most efficient and best suited to your needs.

Services offered:
An energy profile indicating the potential gains to be realized
Technological research and assessment to offer you the most robust technology
A techno-economic study and results assessment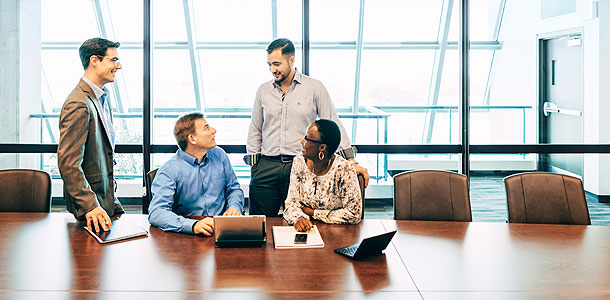 Need assistance on your project?