Flexibility and work-life balance
Depending on your position, Énergir offers several options to promote balance between quality of life and your career:
Telework is possible for up to 9 days out of 10 (1 in-person day every 2 weeks), depending on the team.
10 days of stackable flexible leave in recognition of overtime.*
Flexible schedules and the ability to condense the week into 4.5 days to enjoy Friday afternoon off throughout the year for senior staff*
4-day work schedules for unionized staff
Courage, caring, efficiency
Our leadership posture
At Énergir, everyone's a leader!
To support our transformation, we leverage our caring to give us the courage to act:
We are bold, and we make decisions to ensure our progress.
We are accessible, care for each other and trust each other.
We streamline, optimize and act as a team.
Énergir supports and helps engage its executives in this transformational leadership approach.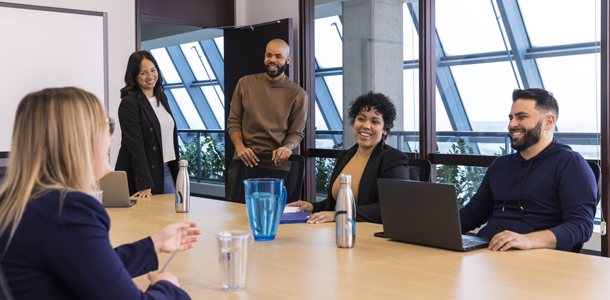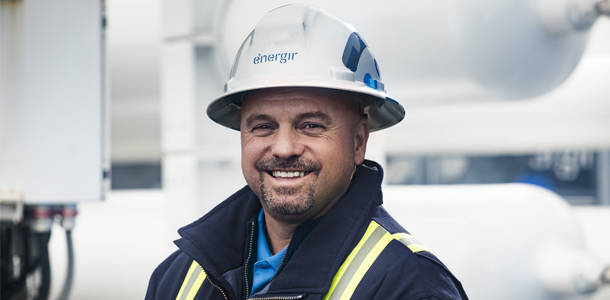 You come first
Énergir prioritizes health, safety and well-being at work. We hone our prevention reflexes and take the necessary steps to ensure the safety of all, including that of our clients, citizens and the community. Énergir will support you in making healthy lifestyle choices and will encourage you to invest in your health. Remaining vigilant, being at your best, and taking care of yourself and others by prioritizing a safe and inclusive space—these are shared responsibilities.
We are proud that our efforts have been recognized by Groupe entreprise en santé, which awarded Énergir first place in the 2022–2023 Distinction awards.
Your development, differently
At Énergir, we think differently about developing our talent. We focus on a culture of learning to care for our employees while supporting organizational transformation. Our employees have access to a range of development tools, including a learning platform filled with training modules, a bulletin board that features opportunities to learn through action, career self-assessment tools and skills development. Énergir encourages internal mobility, and our job openings are systematically posted internally to give everyone the opportunity to express their interest and take part in the recruitment process.

In addition, our École de technologie gazière offers training and services to employees and stakeholders. At Énergir, building and maintaining knowledge and skills related to our business lines is a must!
Bring your energy to ours!

To submit your application, you must use Chrome, Firefox, Edge or Safari. The system does not work on Explorer.