Condensing water heater
Multiply your savings by taking advantage of the grants offered on the purchase of a variety of natural gas water heater models that produce more hot water faster and at a lower cost.
Grant for High efficiency equipment
Get a grant by choosing a condensing water heater
Condensing water heaters reuse part of the available latent heat energy, which makes them highly efficient. To encourage the installation of high-efficiency appliances, Énergir offers a grant ranging from $750 to $20,000 on the purchase and installation of a condensing water heater. The total value of the grant is based on the selected unit's capacity and is subject to certain conditions.*
Take advantage of it now!


The grant for a high efficiency condensing water heater will end on September 30, 2023.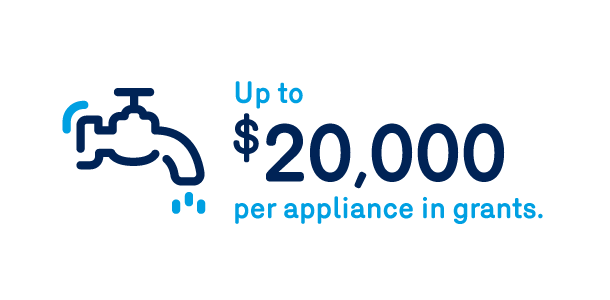 Want to know if you are eligible for this grant? Contact us
Choose performance
The condensing water heater features a heat exchanger made of impervious materials (stainless steel) that optimises heat exchange between combustion gases and the water to be heated. The boiler is designed to condense water contained in combustion products and recover some of the heat energy latent in these products.
Reduce energy consumption
With energy efficiency as high as 95%, the natural gas powered condensing storage tank water heater is an energy-smart option that recuperates lost energy, further reducing your monthly energy bill compared to an electrical unit.
Do you want to get more information about the grant?
Our team of experts will inform you.
Terms
* IMPORTANT In order to qualify for this grant, you must contractually commit with Énergir or an Énergir Authorized Partner prior to your appliances' installation. The total grant amount must not exceed admissible amounts. Some restrictions apply. Some restrictions apply. The conditions of the program and the amount of the grants are subject to change without notice.

** Offer subject to change without prior notice. Certain conditions apply. The amount of financial incentive is determined according to the expected consumption of natural gas, the type of equipment to be installed and the total investment. Signing of a 5 year natural gas contract is required. Eligibility criteria are foreseen in the texts of the Rebate Consumption Program approved by the Régie de l'énergie and a copy can be transmitted on request. Some restrictions apply. The conditions of the program and the amount of the grants are subject to change without notice.