Infolettre transport
Gaz naturel pour véhicules
Case study
First NGV launch for RCI Environnement
---
By opening a CNG station on Chemin-du-Lac in Longueuil, RCI Environnement joined the visionary club of carriers who support adopting natural gas as an alternative fuel. And it doesn't plan to stop there!

Acquired in 2013 by Waste Management, the North American leader in residual waste management, RCI opted for NGV as part of the transition to a continent-wide corporate business model. In fact, Waste Management wanted to lessen its ecological impact to help reduce climate change.

"We had been seeking ways to maximize the value of our resources while minimizing our impact on the environment for several years," explains Martin Dussault, Director of Public Affairs for Québec.

"To that end, Waste Management set itself a series of objectives for 2020, including a 15% decrease in the carbon footprint of its vehicles from the 2007 level. And it succeeded as early as 2011, thanks to the continued adoption of NGV, and since then, every new natural gas vehicle enables us to surpass that objective even more."
Objective: 100% NGV.

Waste Management already operates 110 NGV
stations that supply 7,000 of its vehicles across North America. It now needs to add the 14 new dump trucks in Longueuil. A "first launch," according to Dussault.

"We have made significant investments and adapted our garage and ancillary facilities accordingly. But it doesn't stop there. Our goal is to gradually convert a large part of our collection vehicle fleet in Québec."

An integrated company in the management, collection, treatment and recovery of residual wastes, Waste Management and its RCI subsidiary have transportation divisions in the Montérégie, Laurentian, Outaouais, Mauricie and Saguenay regions, as well as in the Eastern Townships.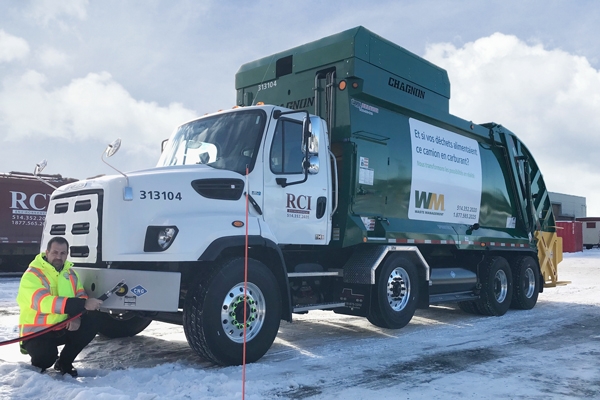 Advantages proven through experience.

Waste Management doesn't need to be convinced of the advantages of NGV in transportation — its own figures have shown that for some time.

"In our North American experience, each vehicle converted to NGV saves 30,000 litres of diesel, or 14 tonnes of greenhouse gases per year. That in turn means eliminating 15% of polluting emissions per truck. And that's not counting fuel-cost reductions," says Martin Dussault.

Careful not to reveal any precise amounts for competitive reasons, Dussault confirms that "NGV also shines in economic terms."

The Longueuil station is connected to the Énergir network and Énergir worked with RCI in the implementation, Dussault noted.

"We had many meetings with the Énergir people who acted as facilitators, even though we already had that expertise in-house. We are delighted to have a partner like Énergir, which is very active in the development of a network of stations in Québec, and which is supporting us in transforming our fleet."