Infolettre transport
Gaz naturel pour véhicules
Newsletter - Transport
Natural gas for vehicles




EBI at the centre of a movement of the future
The Berthierville business was one of the NGV pioneers in Québec. Today, it is the leader in Canada, with a comprehensive offering, including truck rentals and, soon, access to six pubic refuelling stations in the province.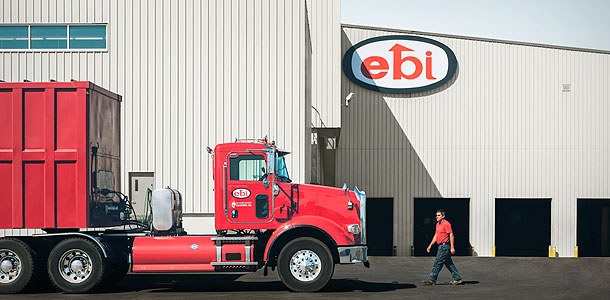 In 2010, when the price of natural gas fell due to new extraction technologies, EBI conducted a year-long test of its first NGV truck. Eight years later, it has almost 130 in its fleet of waste collection vehicles. To that add more than 60 trucks used by external customers, a network of public stations that is growing fast, as well as a deep-seated commitment to supporting Québec carriers in adopting NGV.

"Having noted the sustained savings, cleanness and environmental advantages, we wanted to help other vehicle fleets with their transition projects," says Olivier Sylvestre, Eng., Director of Development of Natural Gas Transport at EBI.
Growing network of public natural gas refuelling stations
Besides operating three private-use stations, EBI operates three public stations in Berthierville, Montréal East and Joliette, already making it the Canadian leader. Three more public stations are also expected to open this year in Laval, Lévis and Trois-Rivières. Each one is supplied by Énergir, which is working with EBI on these projects. "Our NGV customers can now travel up to Rivière-du-Loup. Little by little, we are expanding the reach of the network," states Olivier Sylvestre.

Specializing in waste management (collection, sorting, burying, composting), EBI diversified first into producing renewable natural gas from organic wastes (its production is injected into the Énergir network for industrial customers.) Now, there's a new company division dedicated to NGV.

See network of stations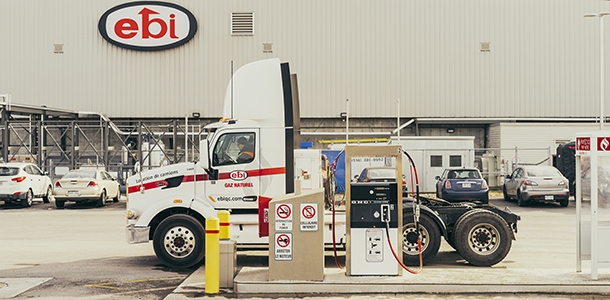 Free trials, advice and training
The refuelling stations serve some twenty external fleets operating in the transport and food industries, as well as in the municipal, construction and forestry sectors.

Companies that are interested can try out an NGV truck for free for a ten-day period, during which EBI gives the company advice and trains the drivers. Only the cost of refuelling in NGV is billed: Later, the company can opt to either rent or purchase its own vehicles.

"We offer a total package, including support and education components," says Olivier Sylvestre. "Even though NGV technology is well established, it does require a few adjustments when it comes to operations, which can create some resistance to change. And so we support those companies throughout the transition project."

However, he believes the principal argument is still its utilization cost. "When we propose a stable 40 to 50% reduction in cost over several years, that quickly gets the attention of fleet managers. The greater the consumption of NGV, the more the savings!"
Interested in natural gas?
Contact your sales representative now.