Énergir helps municipalities consume less-and better!
Since 2014, Énergir's energy efficiency programs helped to:
Deliver 200+ energy efficiency projects in more than 60 municipalities
Generate savings of over 9 million cubic metres of natural gas
Generate GHG reductions of 17,000 tonnes—equivalent to taking 4,200 vehicles off Québec's roads each year*
Provide more than $2 million in grants to municipalities
* Assuming that a vehicle clocks 20,000 km a year and emits 4 tonnes of CO2.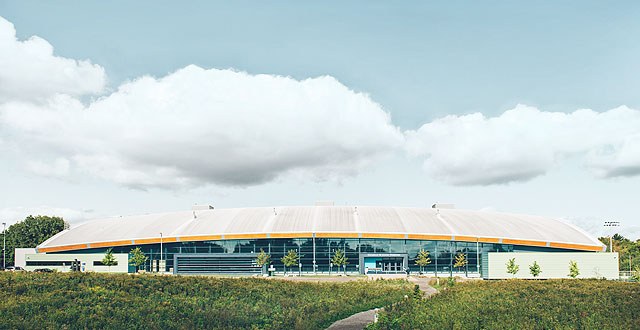 Grants for purchasing high-energy efficiency appliances
Heating

Energy efficiency

Grant
Condensing boiler
90%+ efficiency
Heat recovery on combustion products.
$900 to $25,000
Mid-efficiency boiler
85%+ efficiency
Rapidity in produccing even heat in a given space..
$600 to $10,000
Infrared heating unit
High-efficiency solution
Ultra-efficient for heating large spaces like warehouses and garages.
$200 to $500 per unit
Condensing unit heater
Energy savings
Given the high efficiency of condensing appliances.
Up to $2,900/unit
Smart thermostat
Energy savings
Control heating and air conditioning system remotely via the Internet or a mobile app.
$100/unit
Up to 75% of the cost of the device
Hot water
Energy efficiency
Grant
Condensing water heater
90%+ efficiency
For domestic hot water needs..
$750 $ to $20,000
Ventilation
Variable speed hood
35%-40% reduction
in energy consumption by modulating air extraction in line with what's going on in the kitchen.
$3,500* + $0.45/PCM per exhaust system
* See program conditions.
Energi efficiency measures
Measures available

Energy efficiency

Grant

Solar air preheating
Encourage the installation of solar air preheating system for space heating or processes and preheating water.
$2/m3 natural gas saved
Up to $200,000
Innovation
Identify and develop energy innovations that make a more efficient use of natural gas, have good market potential, and save energy.
Up to 75% of the costs incurred by a project.
Up to a maximum of $25,000 for an experimental project, and up to $250,000* for a demonstration project
New efficient construction
To encourage the construction of energy efficient buildings.
$5/m3 natural gas saved
Up to $325,000
Measures available
Energy efficiency

Grant

Study and implementation
Provides personalized advice on the implementation of energy efficient measures, such as heat recovery, optimization of a steam network or optimization of heating.
- 50% of the cost of the study
Up to $25,000
- Up to $100,000 following the implementation of a measure ($0.30/m³ of natural gas saved).
Recommissioning
A 10%–15% reduction in consumption through the recommissioning of
mechanical systems.
Obtain up to 50% off the cost of projects
Energy-efficient renovations
Improve the thermal envelope of buildings.
Up to $40,000 (consumption ≤ 150,000 m3/year)
Up to $100,000 (consumption
> 150,000 m3/year)
Low-income household supplement
Financial assistance to owners of multi-teant buildings with four or more units, one or more occupied by low-income households. The financial assistance is then shared between the building owner and the low-income households renting a unit in the building where the energy efficiency work is being carried out.
Recreation facility
City of Québec
Heating large spaces can often involve a great deal of energy loss. When building the Parc Chauveau indoor soccer complex, the goal was clear—ensure efficient heating and ventilation, excellent air quality, and especially a comfortable environment for the players, without overheating them.
Need more information?
Contact our municipal affairs team with your questions.