Efficient renovation - Small buildings
This grant aims to encourage making renovations that will improve the thermal envelope of small buildings that consume less than 150,000 m³ of natural gas per year. By being better insulated, your building will consume less energy.

The work may include replacing windows and/or improving the insulation of walls or roofs.
How to determine your annual natural gas consumption?
For existing customers: Check your last bill or consult your customer account under the

Customer Space

on our website.
For future customers:

Contact us

for an estimate of your future consumption.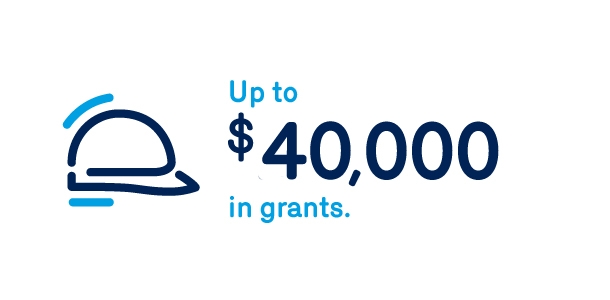 Calculation of grant¹
For windows: $30 per square metre of eligible windows replaced up to a maximum of 7.5% of the cost of purchase and installation of the new windows.

For walls and roofs: $8 per square metre of eligible walls or roofs renovated up to a maximum of 75% of the cost of purchase and installation.
Who is the grant is intended for?
You may benefit from the efficient renovation grant if you meet the following criteria:

You use natural gas as the principal source of energy for heating the building covered by the project
You are an Énergir customer and you consume less than 150,000 m³ of natural gas per year.2
You operate in one of the following activity sectors:
- Commercial
- Multi-tenant buildings with four or more units
- Institutional
- Industrial
You exceed the following minimum requirements in your renovation project.3 Look at

Form I

to have specifications.
Your request for participation is submitted to Énergir before carrying out the renovation project.4
How to obtain the grant?
You need to follow these steps:

Before starting the work, complete and submit

Form I – Declaration of Intent

Carry out your work.
After the work, complete and submit Form II, accompanied by proof requested

Form II - After work

Énergir will analyze your file and will contact you, if necessary. If the project is judged to comply with program requirements, Énergir will advise you accordingly and issue a cheque.
Documents in force for applications submitted before July 1, 2020
Do you have more questions?
Conditions

1. The total amount of the grant may not exceed $40,000 per fiscal year per Énergir account number (a project may include more than one type of measure). Requests for less than $500 are not eligible.
2. A contract must have been signed with your Commercial Representative and an Énergir account number assigned in order to benefit from the financial assistance offered.
3. Projects aimed at insulating roofs and/or walls must show an improvement in energy performance compared with what prevailed before the renovation work.
4. It is essential that you complete and submit your Declaration of Intent (Form 1),, by which you inform Énergir of your intention to participate in the program, before starting the work. The start of work corresponds to the date the first contract covering the renovation project is signed.

The percentage of energy savings is calculated based on the annual reference consumption for heating.

Énergir reserves the right:

to modify or end the program without prior notice;
to interpret the conditions of the program;
to accept, refuse, or adjust the energy savings from any of the measures proposed by customers or other parties;
to limit the number of projects when the budget envelope reserved for the program is depleted.