Smart thermostat grant
Designed to optimize your comfort and peace of mind, smart thermostats are an effective way of managing your energy use. The new thermostat is connected to a Wi-Fi network, letting you control your heating and air conditioning system remotely via the Internet or a mobile app.

Benefits
Heating consumption varies based on different factors that include weather conditions, the dwelling's age and size, its number of occupants and the price of fuel. Once properly programmed, your smart thermostat will help you reduce your energy consumption. Easy to use, smart thermostats adapt to the occupants lifestyle, affording comfort, flexibility and savings.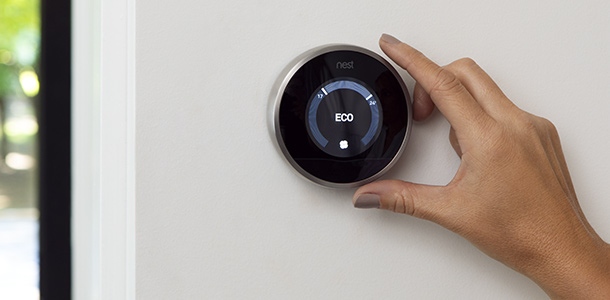 Up to $100
Énergir will pay you an incentive of up to $100 when you buy and install a smart thermostat and ask for the grant (the grant may not exceed 75% of the cost of the device).¹
Eligibility criteria
You are presently or soon will be a Énergir customer.
Must target commercial, institutional or multi-tenant buildings with four or more units whose main heating is natural gas (limit of 1 thermostat per heating system).
You buy and install, yourself or find an

Énergir Certified Natural Gas Partner

to do it, a smart thermostat that is on the list of

ENERGY STAR™ eligible models

recognized by Énergir.
The thermostat must be connected to a local Wi-Fi network to allow remote control of the heating and air conditioning equipment.
You must submit your grant application within 30 days of the purchase date appearing on the receipt for your smart thermostat.
Fill out the grant request application form available on the Customer Space


You are a residential customer? Consult the residential program
Installation tips
Before buying a smart thermostat, make sure it is compatible with your heating/air conditioning system.
For your safety and in accordance with the warranty, the thermostat must be installed according to the manufacturer's specifications
You have 30 days after the purchase date appearing on your receipt to apply for the grant.
Looking for a grant?
An Énergir expert will guide you through the simple process and help find the grants for which you are eligible
Terms
* Conditions apply. Requests for financial assistance for a solar preheating project must be submitted to Énergir before the work begins and accompanied by the EXPRESSION OF INTEREST (FORM 1). For all of the eligibility criteria for this program, see the participant's guide. Program subject to change without notice.