Variable-speed hood grant
Thanks to its control system, a variable-speed hood vents only the air volume required to remove kitchen fumes and grease. Énergir offers a grant for the installation of this system in existing buildings.
Benefits of the variable-speed hood
Reduce your energy consumption
Variable-speed fans - which can be adjusted based on the type of cooking happening beneath them - optimize air exhaust, reducing your energy bill. With the variable flow hood, you could reduce your energy consumption by 35% to 40%.*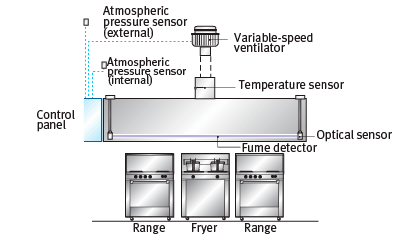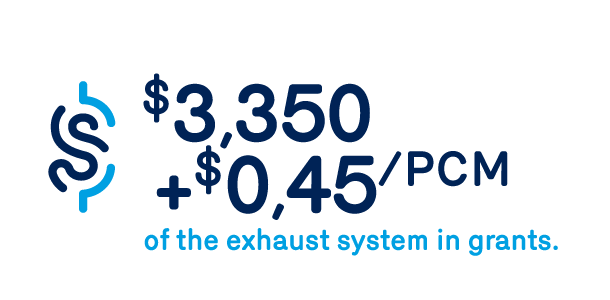 Energy efficiency
Receive a grant
Receive a fixed amount of $3,350 in addition to the variable amount of $0.45 per CFM (cubic feet per minute) of the exhaust system.**
How to get the grant?
Follow the steps below
Consult the eligible equipment list and contact one of the authorized manufacturers.

Eligible equipment list

Prior to installation, informÉnergir of your intention to take part in this program by completing the

"Declaration of Intent"

Form.
Once the units have been installed, forward forms II and III,

"Request for Payment of Financial Assistance " and "Information on the Hood and Exhaust System".

.
Target audience
You may benefit from the variable-speed hood grant if you meet the following criteria:

You are an Énergir customer or about to become one
You are a restaurants or cafeterias owners or managers
The kitchen must be in an existing building and have an air-compensation system heated by a roof unit or by a natural gas make-up air unit to keep the pressure balance in the building.
Note : New constructions are not eligible for this program from January 1, 2022***
Looking for a grant?
An Énergir expert will guide you through the simple process and help find the grants for which you are eligible.
Terms
*Savings may vary.
** The payment of financial assistance may not be interpreted as a guarantee to the customer as to the quality of the variable speed hood or control system or their installation, nor of any other acquiescence as to their compliance, performance or safety: that responsibility is incumbent on the manufacturer, the seller and the installer of the products. The financial assistance may not exceed 50% of the actual purchase and installation costs of the variable speed hood or the control system. Financial assistance may be adjusted downward if necessary. Process applications are not eligible for this program.


*** Exception:
Buildings not covered under the Québec Construction Code, Chapter I.1 – Energy Efficiency of Buildings;
Buildings covered under the Québec Construction Code, Chapter I.1 – Energy Efficiency of Buildings that are not required to comply with Clause 5.2.13.1;
Exceptions must be submitted to Énergir for advance approval.