An Eastern Townships first: a public natural gas refueling station is introduced thanks to Sani-Estrie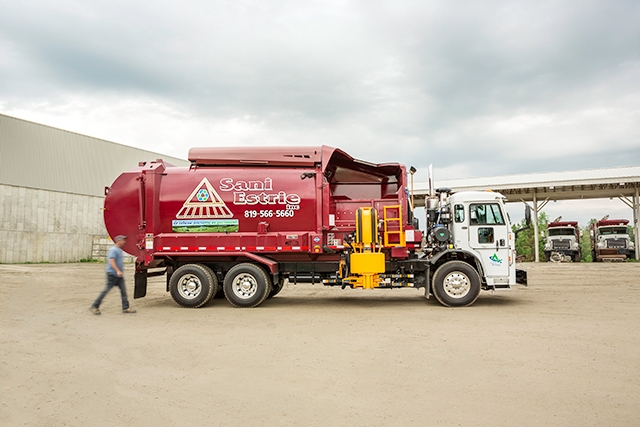 December 14, 2016 - Press releases
Montreal, December 14, 2016
– Sani-Estrie and Gaz Métro are pleased to announce that the first public refueling station for compressed natural gas (CNG) has been set up in the Eastern Townships, the tenth such installation to join the Blue Road. Located at 405 Rodolphe-Racine Street, in Sherbrooke, and operated by Sani-Estrie, this station will be accessible to the public, more specifically to transportation companies and municipalities who use or who wish to adopt this alternative fuel.
"Economic recovery is a priority for our government. We want to modernize Quebec's economy through the energy transition announced in the 2030 Energy Policy. Thus, ensuring access to natural gas to as many regions as possible will enable us to achieve the objectives that we have set for ourselves. I am delighted about the installation of a public natural gas fueling station in the Eastern Townships, since the use of this resource will help promote this transition to a low-carbon economy," said Minister of Energy and Natural Resources and Minister responsible for the Plan North, Pierre Arcand.
Sani-Estrie made the switch to natural gas just over a year ago when it acquired nine new CNG trucks, with the goal of converting 30 more over the next five years. "We are very pleased to offer a new CNG fueling point for Québec-based and particularly local transporters, so they may benefit, as do we, from the numerous advantages of natural gas, especially from an economic and environmental perspective," said Sani- Estrie's Vice President, Sylvain Gagne. "It is crucial for companies such as ours to remain at the leading edge of industry trends in order to stand out from other players in the sector."
The Blue Road is growing!
This new refueling point on the Blue Road, a network of public natural gas fueling stations, will allow companies who fill their trucks with this alternative fuel to travel from the Eastern Townships to Montreal and even to have the possibility of reaching the United States. "The proximity of highways 10 and 55 made Sherbrooke a prime location for pursuing the deployment of the Blue Road," mentioned Martin Imbleau, Vice President, Development and Renewable Energies at Gaz Métro. "We salute Sani-Estrie for their decision to make the switch to natural gas and to provide an additional fuel point on the Blue Road."
This new public station is a great opportunity for transportation companies and municipalities to test trucks equipped with natural gas engines. With its possibilities of being used for transporting goods, residual materials or even for public transport, natural gas technology is a proven solution that allows for an immediate reduction in greenhouse gas emissions of up to 25% per vehicle.
About Sani-Estrie
Founded in 2002 by the group Gestion Sani-Eco Inc. and Yves Duhamel, Sani-Estrie Inc. specializes in residential, commercial and industrial waste transport. The company also rents containers in a range of sizes for disposing of construction and other waste materials. In 2014, wishing to offer local municipalities, businesses and residents a variety of services, the company built a trans-shipment center on its Sherbrooke site. In 2015, it established a new program focused on green energy. Sani-Estrie now has trucks running on natural gas, a clean energy.
About Gas Metro
With more than $7 billion in assets, Gaz Métro is a leading energy provider. It is the largest natural gas distribution company in Quebec, where its network of over 10,000 km of underground pipelines serves more than 300 municipalities and more than 200,000 customers. Gaz Métro is also present in Vermont, where it has more than 310,000 customers. There, it operates in the electricity production market and the electricity and natural gas distribution market. Gaz Métro is actively involved in developing and operating innovative, promising energy projects, including natural gas as fuel, liquefied natural gas as a replacement for higher emission-producing energies, the production of wind power and the development of biomethane. Gaz Métro is a major energy sector player that takes the lead in responding to the needs of its customers,
Information:
Maude Hébert-Chaput
Public Affairs and Communications>
514 598-3449
Multimedia Library