Soup for them fundraising goals surpassed! More than $230,000 will benefit nine organizations that help women in need
Tweets from Gaz Metro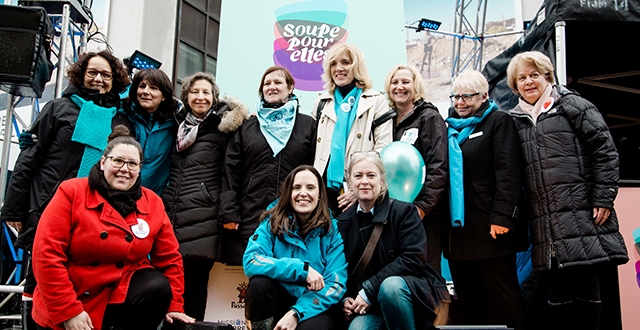 March 8, 2017 - Press releases
Montreal, March 8, 2017 – Soupe pour Elles, the main event in a fundraising campaign for Montreal's women in need, took place on March 1. Nearly 2,000 people, from all walks of life, gathered on the Esplanade at Place des Arts to share a bowl of soup and demonstrate their support for women grappling with homelessness, poverty or abuse. With the campaign wrapping up today, a grand total of $231,491 will benefit the cause's nine organizations.
"We set our goals twice as high as we had for the first edition of Soupe pour Elles in 2015 and we surpassed those goals, thanks to our generous donors and partners. I sincerely hope that the surge in generosity and solidarity toward these women during the campaign will resonate all year long through the work of the nine recipient organizations," says Sophie Brochu, President and Chief Executive Officer of Gaz Métro and instigator of the Soupe pour Elles movement.
The fundraising campaign ran from February 1 to March 8. On this, International Women's Day, each of the nine organizations—Le Chaînon, Auberge Madeleine, Maison Passages, Old Brewery Mission – Patricia McKenzie Pavilion, Maison Marguerite, Chez Doris, Herstreet, Logis Rose Virginie and La Dauphinelle—received a contribution of more than $25,000.
On top of the numerous generous contributions of our corporate partners, $11,351 were gathered among the crowd on March 1 and some 380 people contributed in gathering near $38,000 on the crowdfunding platform La Ruche. Thanks to all those who took part!
Major partners
National Bank of Canada, Bell and Telus
Partners
BMO Financial Group, Sun Life Financial, TD Securities, RBC Royal Bank, Manulife, Aon, Desjardins, Loto-Québec, McCarthy Tétrault, Hydro-Québec, KPMG, Tetra Tech, Ivanhoé Cambridge and Scotia Bank.
Service partners
Cossette, Tact Intelligence-conseil, Soupesoup, McDonald's, l'Équipe Spectra, Laberge Service Alimentaires, Cabana Séguin, STM, Testimony Production, Colpron, CTM and Solpak.
About Soup for them
Soup for them is a community movement to support Montreal's women in need. This initiative from Gaz Métro seeks to raise awareness of the realities of women struggling with homelessness, poverty or abuse.
About Gas Metro
With more than $7 billion in assets, Gaz Métro is a leading energy provider. It is the largest natural gas distribution company in Quebec, where its network of over 10,000 km of underground pipelines serves more than 300 municipalities and more than 205,000 customers. Gaz Métro is also present in Vermont, where it has more than 315,000 customers. There, it operates through its subsidiaries in the electricity production market and the electricity and natural gas distribution market. Gaz Métro is actively involved in developing and operating innovative, promising energy projects, including natural gas as fuel, liquefied natural gas as a replacement for higher emission-producing energies, the production of wind and solar power, and the development of biomethane.

Information:

Maude Hébert-Chaput
Public Affairs and Communications
514 598-3449