Our offices
Looking for the Énergir office closest to you? Here are the coordinates of our offices.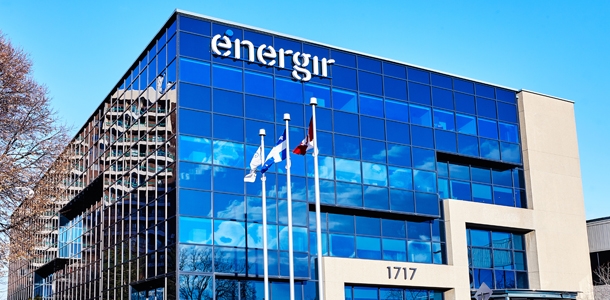 Abitibi-Témiscamingue
579, boulevard Témiscamingue
Rouyn-Noranda (Québec)
J9X 7C8
Administration only
Phone number : 819 797-2111
Toll-free : 1 800 931-1717


Estrie
240, rue Léger
Sherbrooke (Québec)
J1L 1M1

Laurentides

1230, boulevard Michèle-Bohec
Blainville (Québec)
J7C 5S4
Mauricie
1926, voie de desserte de l'autoroute 40
Saint-Maurice (Québec)
G0X 2X0

Montérégie
4305, boulevard Lapinière
Brossard (Québec)
J4Z 3H8

Montréal (East)

11401, L.-J. Forget
Anjou (Québec)
H1J 2Z8
Montréal (West)
2200, rue Cannes-Brûlées
Lasalle (Québec)
H8N 2Z2

Québec
2388, rue Einstein
Sainte-Foy (Québec)
G1P 4T1

Saguenay / Lac Saint-Jean
1100, rue Bersimis
Chicoutimi (Québec)
G7K 1A5

Drummondville
700, boulevard Lemire
Drummondville (Québec)
J2C 7W9

Granby
605, rue Georges-Cros
Granby (Québec)
J2J 1B4
École de technologie gazière
1350, rue Nobel
Suite 200
Boucherville (Québec)
J4B 5H3
Téléphone : 450 449-6960
Fax : 450 449-0766
Usine L.S.R.
11401, Armand-Chaput Avenue
Montréal (Québec)
H1C 1S8
Téléphone : 514 494-6262
Grants available for your business
Take advantage of Energir grants to add or replace natural gas equipment and reduce your energy costs. In addition to offering a better performance, natural gas is cheaper than electricity and fuel-oil.