Renewable natural gas traceability: setting the record straight to move forward with the energy transition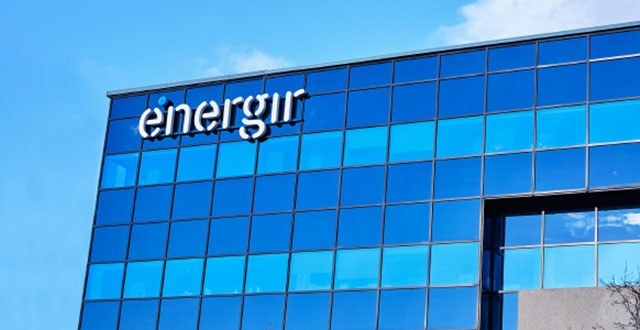 "The statements made from certain environmental groups shows a total lack of understanding of energy systems and undermines the energy transition. The actions put in place by Énergir to market renewable natural gas (RNG) are the same as those used by other energy distributors elsewhere in the world. They are recognized by the relevant authorities. The information is public and well-known to these groups. By attacking renewable energies, they are going against their mission."
- Stéphanie Trudeau, Executive Vice-President Quebec

Montréal, May 30, 2023 - Today, the Sortons le gaz! coalition made accusations against Énergir that we can't allow to go unchallenged. To claim that Énergir is misinforming its customers is completely false and is a perfect example of their total lack of knowledge when it comes to energy systems, in addition of being counter-productive for the energy transition.
RNG traceability
RNG is a gas produced mainly from organic residues. It helps reduce greenhouse gas emissions by replacing fossil fuels and avoiding methane emissions linked to the landfilling of organic residual materials, which are renewed over a very short cycle. This biomass is purified and injected into the network for distribution to customers via the gas grid.
Only customers who purchase the RNG molecules can claim to consume it and have the associated GHG reductions recognized. The RNG portion purchased appears on their invoice, and they are exempt from the Quebec government's cap-and-trade system.
Through a certified process, Énergir has its RNG supply and inventory verified by the Bureau de normalisation du Québec (BNQ). The BNQ confirms that Énergir's RNG inventories available for sale are sufficient to cover the volumes sold to its customers on an annual basis, that the volumes of RNG purchased by Énergir and sold to its customers are of 100% organic origin and do not include any fossil molecules, and finally, that each RNG molecule is purchased and sold only once. The balance sheet of purchases and sold RNG is then filed with the Régie de l'énergie.
Energy distributors, whether they transport electricity or natural gas, operate this way to integrate renewable energies. This is true in Québec as it is in the rest of Canada, the United States and Europe. By attacking this, the coalition is attacking the entire system to increase the supply of renewable energy, which goes against their very mission.
The cost of RNG
The average residential customer using 30% RNG actually pays 9% more than a customer using only fossil natural gas. This is slightly more than they would pay if they were 100% electric, but without having to pay for equipment changes that could amount to several thousand dollars more.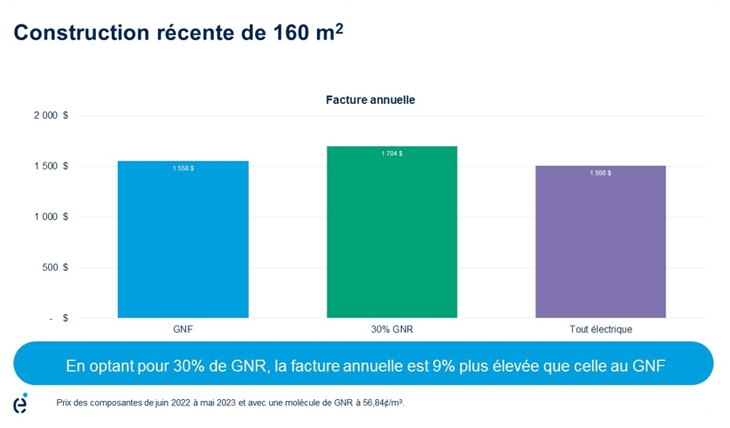 Counterproductive message for the energy transition
Énergir's believes that the greenwashing accusation is inaccurate as it is a world- renowned energy system whose information is publicly available on Énergir's website and social networks (in French), or in a recent press article (in French).
Énergir has always advocated transparency to its customers, investors and the citizens. That is why we voluntarily disclose all information to the public regarding its environmental, social and governance (ESG) activities through its Climate Resilience and Sustainable Development reports.
In addition to all the leaps, incongruities and lack of nuance conveyed by the coalition, Énergir notes that certain groups are putting a lot of energy into criticizing the commitments and concrete actions of companies are taking to participate in the vast project of the energy transition. This kind of message is counterproductive to meeting the major challenges of the energy transition. We ask that instead, they focus their energy on real solutions that will move us out of the status quo.
About Énergir, L.P.
With more than $9 billion in assets, Énergir, L.P. is a diversified energy business whose mission is to find increasingly sustainable ways to meet the energy needs of approximately 535,000 customers and the communities it serves. It is the largest natural gas distribution company in Québec, where, through its joint ventures, it also generates electricity from wind power. Through its subsidiaries and other investments, Énergir, L.P. has a presence in the United States, where it generates electricity from hydraulic, wind and solar sources; it is also the largest electricity distributor and the sole natural gas distributor in the State of Vermont. Énergir, L.P. values energy efficiency and invests its resources and continues its efforts in innovative energy projects, such as renewable natural gas and liquefied and compressed natural gas. Through its subsidiaries, it also offers a variety of energy services. Énergir, L.P. strives to become the partner of choice for those seeking a better energy future.



Information :