Énergir begins work to extend the gas network to Asbestos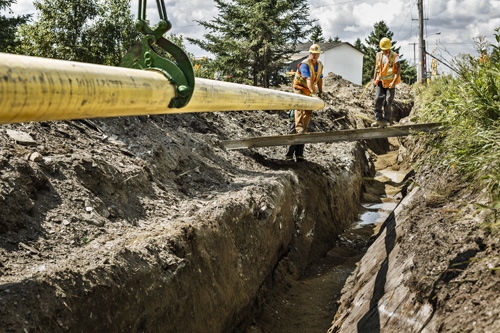 August 18, 2016 - Press releases
Asbestos, August 18, 2016 – This week Énergir begins work to extend the gas network to Asbestos. This is an important step for Énergir and the region's community, which has mobilized to make its businesses more competitive through natural gas. The extension of the gas network by around 7.4 kilometres has been made possible through the support of the Government of Canada and the Ville d'Asbestos, through a financial contribution of close to $3.7 million.

Nature of work
Énergir's contractor will install new pipelines to connect to the existing supply network on Chemin des Canadiens, in Danville. The route will then run along Chemin Saint-Claude and Chemin Saint-Georges to serve the industrial area. The new section is scheduled to be commissioned in October.
Ultimately, some 20 businesses, industrial plants and institutions will reap the benefits of natural gas. Customers could save more than $200,000 in overall energy costs, in addition to reducing their environmental footprint by around 192 tonnes of greenhouse gas annually. The Asbestos industrial area will have a competitive source of energy that could prompt new businesses to open their doors, promoting the region's development.
"Natural gas continues to generate interest among the regions, and we appreciate that governments allow us to act on what is wanted by communities, such as Asbestos, which believes in base-building projects that promote Québec's economic development and improve its environmental performance," said Sophie Brochu, president and CEO of Énergir.
About Énergir
With more than $7 billion in assets, Énergir is a leading energy provider. It is the largest natural gas distribution company in Québec, where its network of over 10,000 km of underground pipelines serves some 300 municipalities and more than 200,000 customers. Énergir is also present in Vermont, where it has more than 310,000 customers. There, it operates in the electricity production market and the electricity and natural gas distribution market. Énergir is actively involved in developing and operating innovative, promising energy projects, including natural gas as fuel, liquefied natural gas as a replacement for higher emission-producing energies, the production of wind power and the development of biomethane. Énergir is a major energy sector player that takes the lead in responding to the needs of its customers, regions and municipalities, local organizations, and communities while also satisfying the expectations of its Partners (GMi and Valener) and employees.
For more information:
Catherine Houde
Media and Public Relations
514 598-3449
[email protected]