Carbon market - a new partnership to foster Quebec's green economy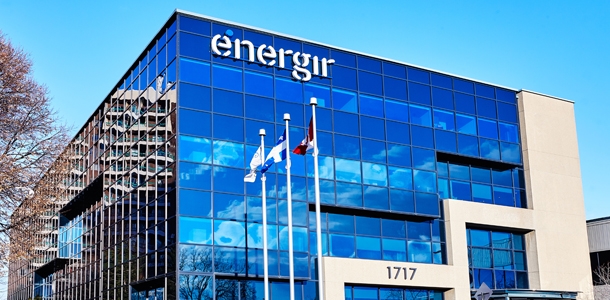 November 3, 2016 - Press releases

Gaz Métro to acquire offset credits generated through WSP Canada Inc. biogas capture systems at certain landfill sites as part of the cap-and-trade system for greenhouse gas emission allowances (C & T system)

Montreal, November 3, 2016 — Gaz Métro is proud to announce multi-year agreements with WSP Canada Inc. to purchase offset credits generated by the reduction of greenhouse gas (GHG) emissions through landfill biogas collection and destruction systems operated by WSP at the Mont -Laurier, Saint-Raymond, Rivière-Rouge and Saint-Flavien landfills. The partnership marks a further step towards achieving the environmental goals of reducing greenhouse gas emissions in Quebec.

The technology installed by WSP will bring about a permanent reduction of GHG emissions equal to some 140,000 tonnes of CO 2 equivalents (t CO 2 eq.). WSP operates collection and destruction systems for the biogas generated at each landfill. The collection systems carry the gas to a pumping station, after which it is destroyed. Overall, the process results in significant reductions of GHG emissions at the sites.

"In recent years, we have developed substantial expertise in biogas collection. Through intensive research on the various technical aspects to this endeavor, we have developed a product unique to the industry in sites that meets the specific criteria of the C & T system. We are delighted to partner with Gaz Métro, a Quebec firm committed to actively reducing GHG emissions by purchasing the full offset credits generated through our technology. Such partnerships are clear proof that respect for the environment can be economically viable and profitable for all parties involved in the reduction of GHGs," said Olivier Joyal, Environment Vice President – ​​Quebec at WSP.

"As we evaluate the means for offsetting GHG emissions available to us and our customers, the importance of finding an approach that maximizes local economic and environmental benefits is clear. By partnering with WSP, we combe our commitment to helping achieve Québec's environmental targets with long-term investment with our business partners," said Vincent Pouliot, Carbon Market and Energy Efficiency Manager at Gaz Métro. "We encourage our customers to reduce their energy consumption through our energy efficiency programs. Then we offset the remaining GHG emissions in various ways, including through the purchase of offset credits that we prioritize."


About Gas Metro

With more than $7 billion in assets, Gaz Métro is a leading energy provider. It is the largest natural gas distribution company in Quebec, where its network of over 10,000 km of underground pipelines serves more than 300 municipalities and more than 200,000 customers. Gaz Métro is also present in Vermont, where it has more than 310,000 customers. There, it operates in the electricity production market and the electricity and natural gas distribution market. Gaz Métro is actively involved in developing and operating innovative, promising energy projects, including natural gas as fuel, liquefied natural gas as a replacement for higher emission-producing energies, the production of wind power and the development of biomethane. Gaz Métro is a major energy sector player that takes the lead in responding to the needs of its customers, regions and municipalities, local organizations, and communities while also satisfying the expectations of its Partners (GMi and Valener) and employees.


About WSP

One of the world's leading professional services firms, WSP offers technical expertise and strategic advice to clients in the Property & Buildings, Transportation & Infrastructure, Environment, Industry, Resources (including Mining and Oil & Gas) and Power & Energy sectors. WSP also offers highly specialized services in project delivery and strategic consulting. Its experts include engineers, advisors, technicians, scientists, architects, planners, surveyors and environmental specialists, as well as other design, program and construction management professionals. With approximately 36,500 people in 500 offices across 40 countries, WSP is well positioned to deliver successful and sustainable projects under its WSP and WSP – Parsons Brinckerhoff brands. www.wsp-pb.com


Information:

Pierre-Yves Séguin
Advisor, Public Affairs and Communications
Gaz Métro
514 598-3449
Multimedia library