Liquified natural gas deliveries start to the Stornoway Renard diamond mine in Northern Quebec, 1,040 kilometers from Montreal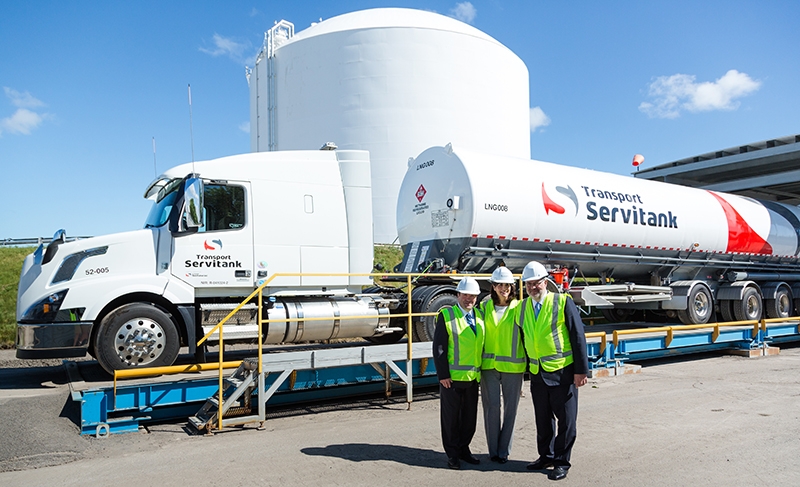 June 13, 2016 - Press releases
Montreal, June 13, 2016 – The Minister of Energy and Natural Resources and Minister responsible for the Northern Plan, Pierre Arcand, and the president and CEO of Gaz Métro, Sophie Brochu, today announced, with the vice-president and COO of Stornoway, Patrick Godin, and with representatives of Investissement Québec in attendance, a major milestone in deploying the 2030 Energy Policy and the Northern Plan, with the start of liquefied natural gas (LNG) being supplied to Northern Québec, to the Stornoway Renard diamond mine. Located in the Otish Mountains, over 1,040 kilometers from Montreal, it is the first Quebec mining company that Gaz Métro LNG, a subsidiary of Gaz Métro, will supply with LNG.
"Today we would like to draw attention to a landmark project for Quebec," said Minister Arcand. "Natural gas is a profitable transition energy that will play an important role during the next few decades in supporting the economic development and competitiveness of our companies, particularly those in Northern Plan territory. Our government made clear commitments when making the 2030 Energy Policy public, in part to ensure that Québec companies have reliable, secure and stable access to natural gas wherever there is demand and profit. This is a great example, and I can assure you that we are continuing our efforts to improve the natural gas supply in Quebec."
"With Gaz Métro LNG's supply of natural gas, companies now have access to cleaner, higher performance energy that offers substantial energy gains," said Pierre Gabriel Côté, president and CEO of Investissement Québec. "This access is not only an advantage for local companies, but also a major asset for the competitiveness of Québec on the international scene, by helping attract foreign investments that are strategic for our economy. And for Investissement Québec, it's a win-win announcement because we are shareholders in both Gaz Métro LNG and Stornoway."
"For a number of years, Gaz Métro has wanted to supply natural gas to regions located far from its gas network, particularly Northern Québec, so as to offer them access to a driver of economic development that is cleaner than oil," said Sophie Brochu , president and CEO of Gaz Métro. "Stornoway has made the Renard mine a concrete example of an innovative mining project that is giving Québec visibility in the mining world. By opting for natural gas rather than diesel to run its power plant, Stornoway is reducing its greenhouse gas emissions by 43% and significantly reducing its emissions of nitrogen dioxide (NOx) and sulfur dioxide (SOx), proof of the impact that choosing LNG can have. The start of delivery of LNG to the Renard mine is the result of the vision, leadership and expertise of all our teams at Gaz Métro, Stornoway and the transporter Servitank, to implement solutions for delivering LNG over such a long distance. Road service is a proven, safe and flexible solution, which is the most appropriate way to serve regions that are a long way from the gas network."
In fall 2014, with the Government of Québec and Investissement Québec, Gaz Métro announced a project to expand its Montréal liquefaction, storage and regasification plant to meet needs for regions that are remote from the gas network, particularly Northern Québec and the Côte-Nord, but also for the road and maritime transport markets. Through Investissement Québec, the Government of Québec took a $50 million stake in the Gaz Métro subsidiary, Gaz Métro LNG, which is responsible for this expansion project and for marketing liquefied natural gas.

About Gas Metro
With more than $7 billion in assets, Gaz Métro is a leading energy provider. It is the largest natural gas distribution company in Quebec, where its network of over 10,000 km of underground pipelines serves some 300 municipalities and more than 200,000 customers. Gaz Métro is also present in Vermont, where it has more than 310,000 customers. There, it operates in the electricity production market and the electricity and natural gas distribution market. Gaz Métro is actively involved in developing and operating innovative, promising energy projects, including natural gas as fuel, liquefied natural gas as a replacement for higher emission-producing energies, the production of wind power and the development of biomethane. Gaz Métro is a major energy sector player that takes the lead in responding to the needs of its customers,
About Investissement Québec
Investissement Québec's mission is to foster the growth of investment in Québec, thereby contributing to economic development and job creation in every region. The Corporation offers businesses a full range of financial solutions, including loans, loan guarantees and equity investments, to support them at all stages of their development. He is also responsible for administering tax measures and prospecting for foreign investment.
Information:

Geneviève Couture
Gaz Métro
Public Affairs and Communications
Tel.: 514 598-3449

Véronique Normandin
Press Attaché
Office of the Minister of Energy and Natural Resources, Minister responsible for the Northern Plan
Tel.: 418 643-7295
Marie-Eve Savard
Government Relations and Public Affairs
Investissement Québec
Tel.: 514 876-9412