Énergir acquires Standard Solar, a leading U.S.- based solar energy firm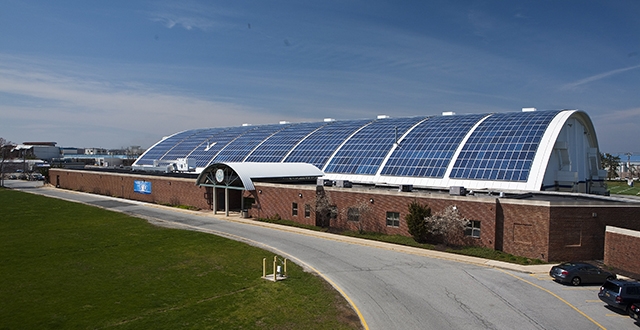 March 7, 2017 - Press releases
Strategic deal expands Gaz Métro's presence in a rapidly growing U.S. industry
Standard Solar's projects complement Gaz Métro's existing commercial offering and enhances the company's solar energy expertise
Montreal (March 7, 2017) – Gaz Métro Limited Partnership ("Gaz Métro"), today announced the acquisition, through one of its subsidiaries, of Standard Solar, Inc. ("Standard Solar''), a leading solar energy firm specializing in the development, installation and financing of commercial solar electric systems in many states across the United States ("U.S."). This strategic deal not only expands Gaz Métro's presence and expertise in the rapidly growing U.S. solar energy industry, but also opens the door to a promising approach of combining solar energy with other energy sources such as natural gas in the U.S. The acquisition also contributes towards fulfilling Gaz Métro's objective of actively participating in the reduction of the energy sector's environmental footprint and to lowering GHG emissions.

Based in Rockville, Maryland, Standard Solar is a commercial, industrial and institutional solar developer, engineering, procurement and construction management, as well as operations and maintenance services provider operating in multiple states in the U.S., including California, Connecticut, Maryland, Massachusetts, New Mexico, New York, North Carolina, and Washington D.C. Standard Solar currently has a portfolio of construction-ready projects for a total of nearly 80 MW, a significant development pipeline, and over 100 MW of solar generation capacity under management services.

"Gaz Métro is positioning itself to take full advantage of the projected growth in the solar energy industry, one of the fastest growing sectors in the U.S. What's more, this acquisition reflects Gaz Métro's willingness to increase its presence in the renewable energy segment while growing its current business operations," said Sophie Brochu, President and Chief Executive Officer of Gaz Métro. "Standard Solar is a dynamic and experienced player in a growing industry led by a seasoned and highly competent management team with a sterling reputation and outstanding track record."

"Solar energy is a thriving industry in the U.S., and this acquisition comes at a perfect time for Gaz Métro," continued Ms. Brochu. "With Standard Solar's expertise and existing platforms, as well as our company's long-term growth strategy, we are poised for success in the U.S."

Gaz Métro, through its Vermont-run subsidiary Green Mountain Power, has extensive experience operating approximately 30 MW of total capacity solar in the state, and has sponsored hundreds of solar air preheating system projects in Québec. With this acquisition, Gaz Métro will be adding to its current expertise and strengthening its position as a leading energy player constantly seeking to remain one step ahead in anticipating and addressing the needs of its customers in all regions and municipalities, and those of the local organizations and communities it serves.

Through the agreement, Gaz Métro indirectly acquires 100% of Standard Solar's shares. The transaction is pending a regulatory approval and is expected to close in the coming weeks.

About Gaz Métro

With more than $7 billion in assets, Gaz Métro is a leading energy provider. It is the largest natural gas distribution company in Québec, where its network of over 10,000 km of underground pipelines serves more than 300 municipalities and more than 205,000 customers. Gaz Métro is also present in Vermont, where it has more than 315,000 customers. There, it operates through its subsidiaries in the electricity production market and the electricity and natural gas distribution market. Gaz Métro is actively involved in developing and operating innovative, promising energy projects, including natural gas as fuel, liquefied natural gas as a replacement for higher emission-producing energies, the production of wind and solar power, and the development of biomethane. Gaz Métro is a major energy sector player that takes the lead in responding to the needs of its customers, regions and municipalities, local organizations, and communities while also satisfying the expectations of its Partners (GMi and Valener) and employees.

Information:

Media
Geneviève Couture
Public Affairs and Communications
514 598-3449

Investors and analysts
Mariem Elsayed
Investor relations
514 598-3253


Return to the press room