Énergir welcomes Québec's new energy policy
2030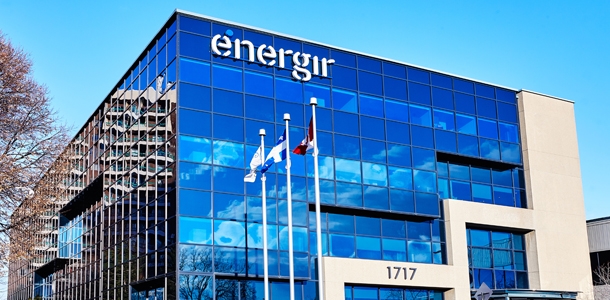 Montréal, April 7, 2016 – Gaz Métro welcomes Québec's new Energy Policy 2030, unveiled today by Québec Premier
Philippe Couillard, accompanied by Pierre Arcand (Minister of Energy and Natural Resources, Minister responsible for
the Northern Plan and Minister responsible for the Côte-Nord region), Dominique Anglade (Minister of Economy,
Science and Innovation and Minister responsible for the Digital Strategy), David Heurtel (Minister of Sustainable
Development, the Environment and the Fight Against Climate Change), and Geoffrey Kelley (Minister responsible for
Native Affairs) . "We welcome the vision the government is putting forward in this 'energy of transition' policy to enable
us to meet the challenges facing our society by advocating the development of a lower-carbon economy. The
government can count on Gaz Métro's collaboration in the implementation of this new policy," said Sophie Brochu,
President and Chief Executive Officer of Gaz Métro.

With its proven expertise and leadership in energy efficiency, with the use of natural gas instead of higher-emission
energy sources—particularly in the industrial, heavy freight and marine transport sectors—and thanks to its ongoing
development of its renewable energy portfolio, Gaz Métro is already deploying solutions that meet the energy
imperatives of today and tomorrow. The new policy will make it possible to step up the deployment of these initiatives,
for example by encouraging the production and distribution of renewable natural gas (biomethane), by improving the
Écocamionnage Program, fostering the acquisition of natural gas vehicles and by promoting the use of natural gas as
fuel through the deployment of natural gas fueling points in Quebec.

"The policy echoes the majority of the proposals we put forward in consultations the government conducted in
preparation for formulating the policy. We note with enthusiasm that, for example, the government has reiterated its
wish to help provide the various regions of Québec with access to natural gas (gaseous or liquefied).We are also
happy to learn that Gaz Métro will have some leeway with regard to acquiring the natural gas transport capacities
needed to facilitate and encourage matters for major industrial companies that wish to set up in Québec or convert
their processes to natural gas," added Ms. Brochu.

Gaz Métro notes the government's intention to create a new body responsible for energy efficiency, innovation and
substitution and intends to put to good use, among other things, the expertise it has developed over the past 15 years
in the management of energy-efficiency and conversion programs

"Quebec's Energy Policy 2030 gives a clear signal to the players in our industry that they must be proactive and
imaginative in putting forward solutions in response to the challenges involved in reconciling climate change with
economic development in Quebec in order to bring about a greener, more prosperous future," Ms. Brochu concluded.

About Gaz Métro

With more than $7 billion in assets, Gaz Métro is a leading energy provider. It is the largest natural gas distribution
company in Quebec, where its network of over 10,000 km of underground pipelines serves more than
300 municipalities and more than 200,000 customers. Gaz Métro is also present in Vermont, producing electricity and
distributing electricity and natural gas to meet the needs of more than 310,000 customers. Gaz Métro is actively
involved in the development and operation of innovative, promising energy projects, including natural gas as fuel,
liquefied natural gas as a replacement for higher emission-producing energies, wind power and biomethane.
Gaz Métro is a major energy sector player that takes the lead in responding to the needs of its customers, regions and
municipalities, local organizations and communities while also satisfying the expectations of its Partners
(Gaz Métro inc. and Valener) and employees.

Information:

Marie-Christine Demers
Media and Public Relations
514 598-3449