A new standard in responsible and transparent energy development and procurement
On February 10, 2020, Seven Generations Energy Ltd. (7G) and Énergir signed a responsible natural gas procurement agreement governed by the EO100TM Standard for Responsible Energy. This is the first agreement based on the EO100TM Standard in the world, setting a new bar for transparency across the value chain.


What do we mean by "sustainable procurement"?
It all started in January 2017, when Énergir launched its responsible natural gas procurement initiative, with the goal of increasing awareness of the products it purchased and distributed and ultimately reducing its environmental footprint.
Heating degree days
To achieve this, Énergir set two main objectives for its sustainable procurement initiative:

Buy from specific producers so that natural gas supplies are easier to track

Buy from producers who disclose information about their operations and have adopted best environmental, social and governance practices

For Énergir, its customers and stakeholders, this initiative represents:

A greater understanding and increased transparency regarding the source of natural gas, production methods and environmental impacts

A further step toward reducing the environmental footprint of natural gas

A clearer understanding of the role of natural gas in the energy transition
Picture: Seven Generations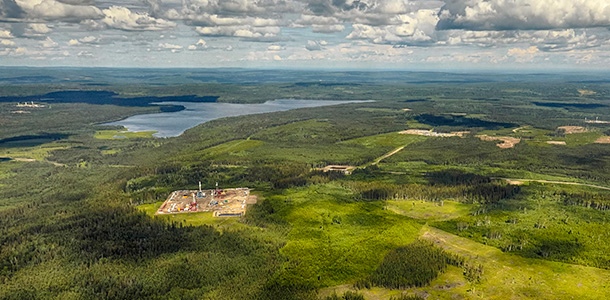 Implementing the initiative in two phases
1. Establishing the criteria
In 2017, in conjunction with the Pembina Institute, a Canadian non-profit organization renowned for its expertise in energy and climate issues, Énergir established the criteria and analyzed several evaluation methods to measure the environmental, social and governance performance of natural gas producers.

In the end, the EO100 TM Standard created by Equitable Origin was chosen. As the only standard specifically designed for the energy sector, it sets itself apart through the thoroughness of its audits and its requirements for sound management, transparency, respect for Indigenous peoples' rights, working conditions and the environment, among others.
2. Field testing
By the spring of 2018, Énergir was ready to field-test the criteria and evaluation method it planned to adopt. It launched a pilot project that brought together a Western Canadian gas producer, independent evaluators recognized by Equitable Origin and members of the Pembina Institute.

The project made it possible to verify the relevance of the evaluation process, as well as identify areas for improvement that would help Énergir enhance its evaluation process as a whole after consultation with stakeholders. This approach was the basis for the responsible natural gas procurement initiative that Énergir submitted to the Régie de l'énergie as part of its 2019–2020 supply plan, and which the Régie noted in its November 2019 decision.
Identifying producers
As mentioned above, the first transaction with an eligible producer was completed in February 2020 with 7G, located in Grande Prairie, Alberta.

Although it's the first gas producer to participate in Énergir's responsible procurement initiative, the company continues to engage more producers in the initiative, thereby promoting transparency and best practices. Those who meet these requirements will receive "eligible" producer status in return, which will entitle them to greater access to Énergir's market and a premium on the sale of natural gas.

The list of eligible producers is also available to all direct-purchase customers, should they be interested in entering into an agreement directly with one of these producers.
What's next?
Énergir aims to have approximately 20% of its system gas purchases dedicated to this initiative in the first year and wishes to increase it in the future. Énergir also hopes that this initiative will promote transparency and more responsible practices, and ultimately generate environmental benefits by favouring the producers with the strongest commitment to sustainable development.

By buying from more responsible and transparent producers who limit their fugitive emissions to a certain threshold, we will be able to reduce GHG emissions throughout the lifecycle of natural gas. "With this initiative, we hope to guide industry practices. We want it to become a model for producers here in Canada and across North America," said Philippe Lanthier, Advisor, Sustainability and Climate Change at Énergir.