Express Blue Bulletin
New rates for fall 2023
Énergir's proposed rates were filed with the Régie de l'énergie on May 12 and are currently awaiting approval, with an intended application on October 1, 2023.
Price of Énergir services
The 2023–2024 Rate Case proposes an overall rate increase of 2.7% or $27.6 million for the distribution, transportation and load-balancing services, and for inventory adjustments related to the cap-and-trade system (CATS), broken down as follows:
2.4% increase in distribution rates
3.1% reduction in transportation rates
12.9% increase in load-balancing rates
7.0% increase in CATS inventory adjustments
The rate adjustments to the distribution, transportation and load-balancing services are explained below.

Transportation service
The 3.1% ($6.3M) proposed rate decrease for transportation is largely attributable to two elements:
The integration of the overpayment noted during 2021–2022 year-end closing, part of which is to be redistributed to customers in the 2023–2024 Rate Case. This represents a 4.5M decrease in deferred expense account (DEA) depreciation.
The reduction in the DEA level relative to shortfalls and overpayments over the past three years, which represents a $2.4M decrease in the value of returns and taxes.
Load-balancing service
The 12.9% ($16.8M) proposed load-balancing rate increase comes mainly from:
A $28.8M decrease in load-balancing revenue, largely due to updated customer load profile parameters in the 2023–2024 Rate Case, which are based on the warm winter in 2022–2023.
The October 1, 2023 application of a new formula to calculate load-balancing rates based on the load factor.
This upward pressure on the load balancing rate is partially offset by:
A $6.3M decrease in load-balancing costs. This decrease can be explained by the absence of the acquisition of a transportation tool in 2023–2024 compared to 2021–2022 (a winter transportation tool functionalized in the load-balancing service) and the depreciation of eliminated DEAs, less than provided for in the 2022–2023 Rate Case. All of which is partially offset by an expected increase in compression fuel prices and Enbridge Gas rates along with higher storage tool costs, particularly at Intragaz following the application of their new pricing.
Depreciation resulting from the $3.4M overpayment in the 2021–2022 fiscal year.
Distribution service
Énergir's distribution rates for 2023–2024 are up $16.5M or 2.4%. This increase can mainly be explained by:
A change in distribution earnings due to a 59 Mm³ decrease in volume, including receipt volumes, leading to a $14.6M drop in revenue.
A change in net DEA balances (-$25.4M). Notably, decreased depreciation in the following accounts: temperature and wind rate stabilization (-$10.7M), IT development project costs (-$8.7M), revenue decoupling and overpayments (-$8.1M), and budget variances for future employee benefits (-$7.3M). This is partially offset by an appreciation in the lost gas levelling account ($5.6M) and the global energy efficiency plan account ($3.8M).
Increased operating expenses and the cost of other components of future employee benefits (FEB) ($3.4M).
A $2.8M increase in the capital amortization expense.
Increased returns ($7.8M) resulting from rate base growth coupled with an increased weighted average cost of capital. The increase in tax expenditure ($12.6M) is explained by higher earnings combined with a change to earnings elements whose accounting treatment differs from tax treatment.
An increased GHG contribution received from Hydro-Québec ($4.4M).
Details of variations

The table shows the average variation on a bill attributable to the three services above, for each distribution rate.
For variations in transportation (T), load-balancing (L) and distribution (D) services for each rate tier, click here.

Annual rate variations by service
Following the rate increases in 2021–2022 and 2022–2023, the proposed increases will stabilize in 2023–2024. Notably, the rate increase for distribution is below the 5-year average variation.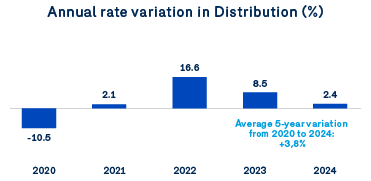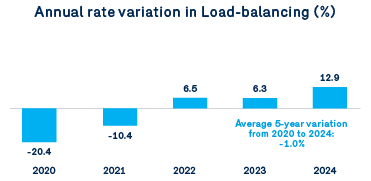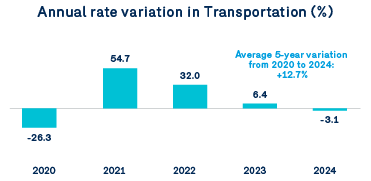 Price of renanewable natural gas (RNG)
In its 2023-2024 Rate Case, Énergir files the proposed price for RNG and is pending approval, with a target application date of October 1, 2023. The price for RNG will increase from $15.00/GJ (56.842 ¢/m³) to $19.12/GJ (72.457 ¢/m³).

The price of RNG represents the acquisition costs for the upcoming year. There will be no socialization of RNG in Énergir's rates for the year 2023-2024.
Contact your major industries sales advisor if you wish to integrate RNG in your natural gas consumption.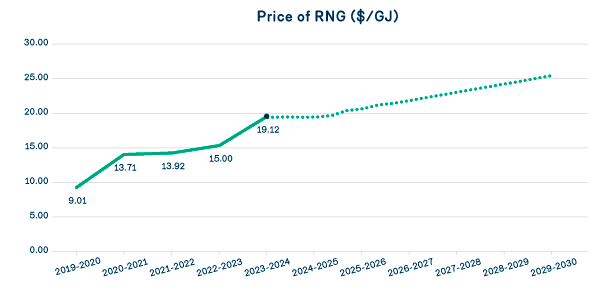 Minimum annual obligations (MAO) for large customers with a peak consumption profile
As part of the 2023–2024 Rate Case, Énergir has tabled a proposal to establish minimum annual obligations (MAO) for large customers with a peak consumption profile. The purpose of our new MAOs is to ensure that Énergir receives a minimum level of revenue when a customer's annual natural gas consumption is not high enough to recover costs associated with high and infrequent peak demand.
Énergir proposes that MAOs apply to customers at the general distribution rate (D1) whose potential peak capacity demand is greater than or equal to 10,000 m³ per day and whose potential annual load factor is less than 10%. The proposed new MAOs do not apply to customers at rates D3, D4 and D5, which already include measures to stabilize annual revenues.
Énergir proposes that the new MAOs come into effect on December 1, 2023.
For more information, refer to the document entitled "Énergir-Q, Document 12," available on the Régie de l'énergie's website (in French).
Video explaining the new load-balancing formula
Check out the webinar video that introduces and explains the changes to our Conditions of Service and Tariff.