Natural Gas Market Conditions
With average temperatures well above normal, January and February 2023 saw one of the largest downward adjustments in North American natural gas prices in recent years. This climate event during two key months resulted in a significant decline in residential and commercial consumption, as well as in the level of natural gas withdrawals from storage.
While storage of natural gas in the United States was -9.6% behind the previous year at the end of December 2022, it ended the 2022–2023 winter season with a surplus of +31.9% compared to the end of March 2022. This is an evolution that keeps natural gas spot and futures prices at historically low levels.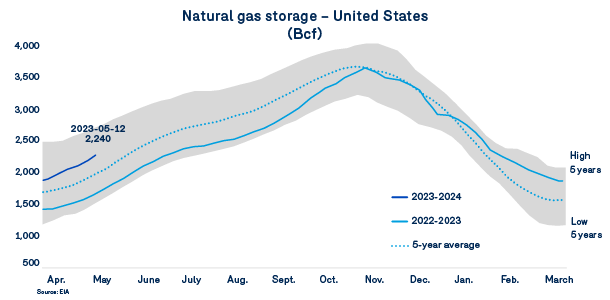 With prices at the Dawn hub moving below $3/GJ, North American natural gas prices are very different from 2022 levels and even seem unsustainable given the inflationary pressures that are also hitting the oil and gas sectors. These price levels could prompt producers—always looking to improve their financial health—to reduce their pace of drilling in response to a market that offers so little per natural gas molecule.
While U.S. natural gas production has been strong since the beginning of the year, there has been some slowing in oil and gas drilling activity. This results in a downward revision of the expected production levels over the coming months.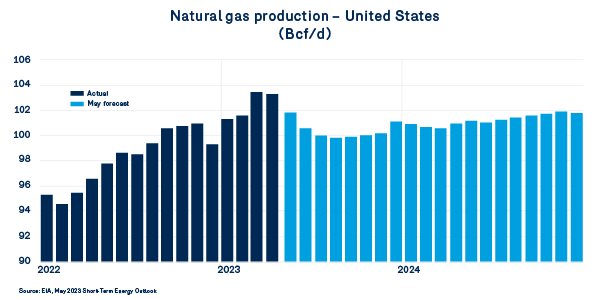 According to the May 2023 forecast issued by the U.S. Energy Information Administration (EIA), production is projected to decline through the end of the summer, then increase slowly and hold steady around 101 Bcf/d in 2024. That said, even with a slight decline, production remains largely sufficient to meet domestic consumption and fulfill liquefied natural gas (LNG) exports. For the summer of 2023, the natural gas market is expected to see U.S. production up 1.2% from its average level in summer 2022. However, for the same period, domestic consumption is expected to rise by just 0.2%.
As a result, the natural gas balance is expected to be much more relaxed and less conducive to price increases such as those observed last year. At the same time, this balance is accompanied by less pressure to replenish the storage tanks in preparation for winter 2023–2024. By the end of October 2023, these storage facilities are expected to reach approximately 3,762 Bcf, an increase of 5.4% compared to levels in late October 2022. These prospects definitively have a calming effect on spot and futures prices.
Although it is still a bit early to discuss winter 2023–2024, the natural gas environment appears to favour a continuation of molecule prices in the range of $4.00/GJ to $5.50/GJ.
As of May 23, 2023, Dawn's June to November 2023 natural gas futures were trading below $3.00/GJ and winter 2023–2024 prices were close to $4.50/GJ. While the forecast may change, particularly based on climate events, the fundamentals seem to leave little room for a natural gas price spike similar to that of 2022. In the medium term, a rise in prices seems inevitable, and probably even desirable, in order to restore a better balance between production and consumption.