Energy innovation introduced to poultry farms
If only there were a heat exchanger that could withstand the filth generated by a poultry farm, then Quebec farmers could finally see their energy bill reduced. Well, this is now possible thanks to a novel and promising solution devised by a Québec-based company, ESA, and developed with support from Énergir's Innovation Program.
Recover heat in a contaminated area.
50%
savings per unit.
$150,000
for the prototyping and demonstration.
Ventilating poultry farms to evacuate stale air and bring in fresh air heated consistently to 28°C is difficult. In a regular building, costs can be reduced by installing an exchanger that preheats clean incoming air while recycling the heat of outgoing air. But until recently, poultry farmers could not enjoy this possibility.
"For 30 years, the exchangers available have been susceptible to getting clogged and freezing up, requiring over an hour of maintenance between each farming cycle. With ten units, that's a full working day lost for the farmers."

__ Gabriel Gagné-Marcotte, CEO.

An ingenious heat exchanger
The innovation from ESA tackles problems related to the cost, maintenance and quality of warm air in poultry farms.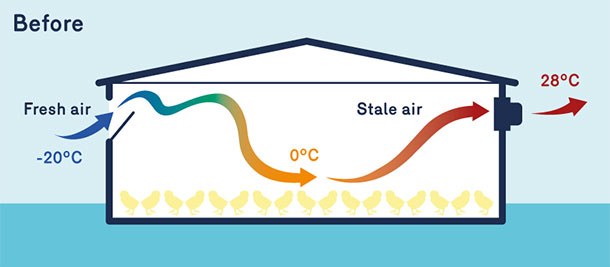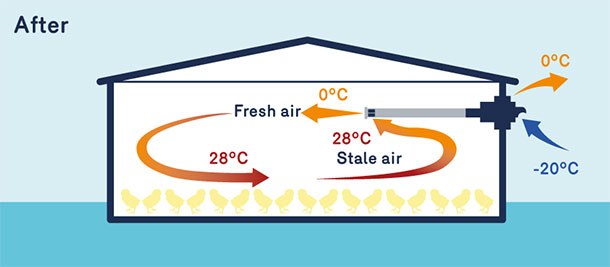 Concept

A dual-flow helix draws in cold outdoor air and expels hot indoor air in an isolated manner by means of a cassette-type filter box suspended from the ceiling of the poultry farm, which collects the dirt and helps preserve the ventilation system. This unit can be easily removed and cleaned in five minutes through a simple rinsing process.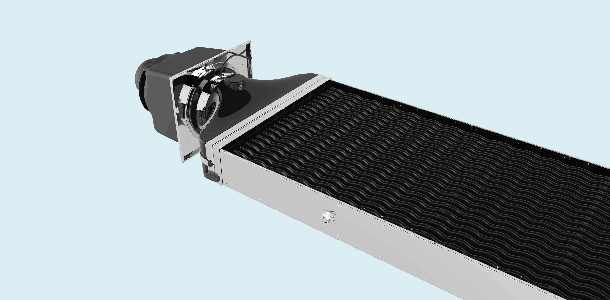 Demonstrating the technology's potential in Quebec
Once the idea was conceived, it had to be prototyped, tested and demonstrated to potential customers. At every stage, ESA found an ally in the development of its solution with Énergir's Innovation Program.

"They were the first to believe in our project, which wasn't very simple. Their help was crucial," said Daniel Rousse PhD., professor at École de technologie supérieure, and founder of ESA in 2010.

Énergir provided ESA an initial financial contribution of $75,000 to prototype its solution, and an additional $80,000 to carry out tests and adjustments in actual poultry farms. This energy efficiency measure is now eligible under our Implementation incentives program.