The solution

A large mixed water loop—or warm water—circulates throughout the building and warm water is fed into this network via heat pumps. To regulate the room temperature, the heat pump will either heat or cool the air and inject the desired temperature into the big loop. The water cooler or boiler maintains the water temperature at its set point for the optimal functioning of the heat pump. During the winter, the boilers do the most work; in summer, the cooler and water tower work hardest and in between seasons is the time for recovery work. North-facing areas inject cold air into the loop, which is used to cool the south-facing areas, where air condi-tioning is needed. For this system, we suggest a condensing water heater to ensure the hot water supply.

There's a growing demand for safer entryways in winter (indoor parking ramp, sidewalks) and a condensing boiler combined with heated concrete slabs can do the job.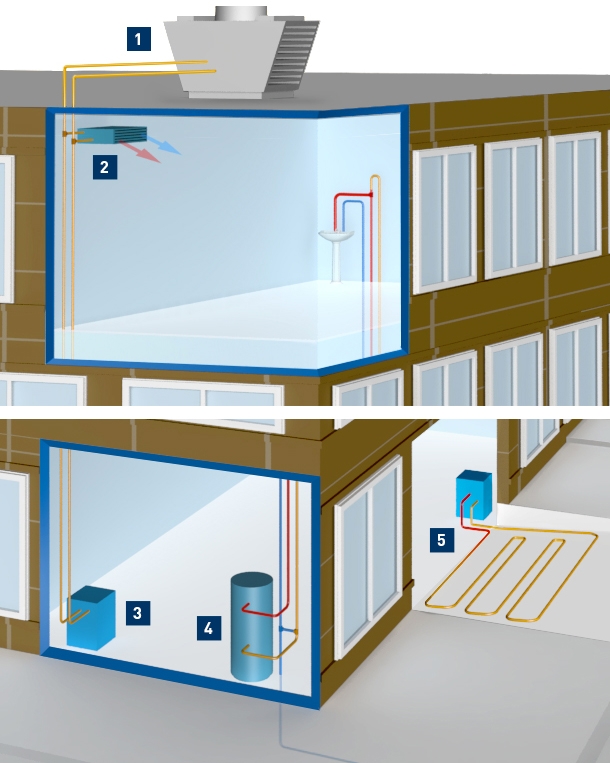 Configuration

1- Cooling tower

2- Heat pump

3- Condensing boiler

4- Condensing water heater

5- Condensing boiler for the entrance


The condensing boiler and water heater attain very high levels of efficiency
Many benefits for you and your customers
For you

Recognized technology

Comfortable, efficient design in each area

Mixed water pipes don't need to be isolated
For your customers

Increased comfort and temperature control

More economical operating costs

Financial grants

Heat recovery during the day
Grants available

Énergir offers substantial grants to smoothly integrate natural gas into your project. Financial assistance is available from energy-efficiency programs and the consumption rebate program. Your sales representative will help you determine the amount to which you are entitled.

Other options are also possible
Equipment rental
Gaz Métro Plus, a subsidiary of Énergir, has a great equipment rental program for your construction projects.