The solution
The building is divided into two main areas: the perimeter and a central, open plan area. A centralized H-shaped system ventilates warm air. Warm air heating provides comfort for the entire central area and a hot water loop heats the perimeter. In the H-shaped system, a condensing boiler provides warmth via coils.

A second condensing boiler heats the perimeter, while the H system ventilation system gath-ers fresh outside air, returned air and warm or cooled air into a single distribution point.

Home hot water is centrally produced by a condensing water heater or a hot water loop. There's a growing demand for safer entryways in winter (indoor parking ramp, sidewalks) and a condensing boiler combined with heated concrete slabs can do the job.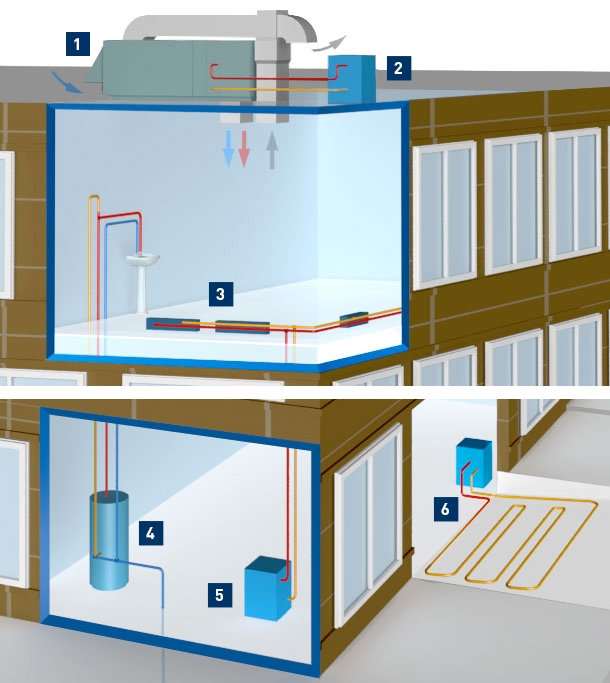 Optimal solution set-up
1- «H» ventilation system
Operation and installation ease
2- Condensing boiler for the «H» ventilation system
3- Radiators
4- Condensing water heater
5- Condensing boiler for the perimeter heating
6- Condensing boiler for the entrance
The condensing boiler and water heater attain very high levels of efficiency
Many benefits for you and your customers
For you
Recognized technology

Easy to install

High-efficiency equipment

Facilitates LEED certification
For your customers
Financial grants

Increased comfort

Competitive operating costs

Heat recovery potential
Grants available
Énergir offers substantial grants to smoothly integrate natural gas into your project. Financial assistance is available from energy-efficiency programs and the consumption rebate program. Your sales representative will help you determine the amount to which you are entitled.
Commercial grants
Other options are also possible
Equipment rental
Gaz Métro Plus, a subsidiary of Énergir, has a great equipment rental program for your construction projects.