The solution
This type of construction is distinguished by a large open concept area with lots of doors and a high ceiling. As such, the heating, air conditioning and ventilation systems are strategically de-signed to serve every area of ​​the building. Rooftop units ventilate and heat the central area, vertical furnaces heat areas near the doors, air heaters or infrared units warm shipping docks and a tankless water heater supplies hot water.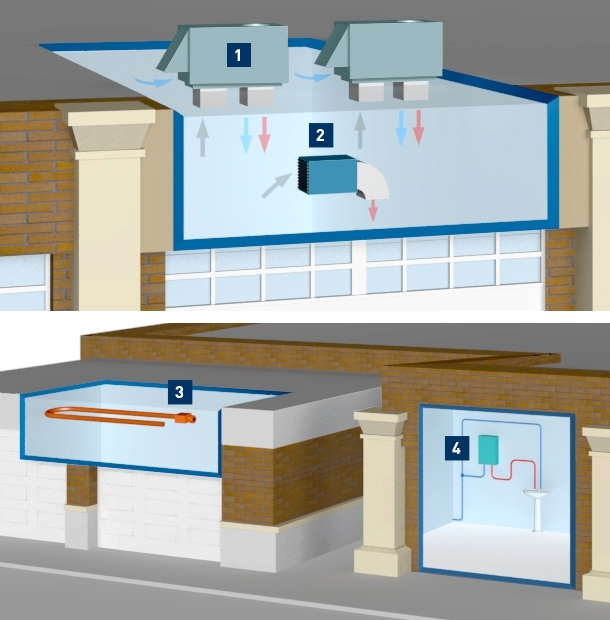 Optimal solution set-up
1- Rooftop unit
Decentralized ventilation system
Efficient heating of open air central zones
Modulating options
2- Vertical furnace
Easy and direct fitting to the ventilation system
Flexible (can be combined to the air conditioning and humidifier system)
3- Infrared
Economical, its use can generate annual savings ranging from 25% to 35%
Recommended for better comfort in highly ventilated areas with high ceilings
Compared to the electric infrared, the natural gas infrared offers a wide range of power from 15,000 Btu/h to 200,000 Btu/h
4- Tankless water heater
Requires little space
Energy savings ranging from 10 to 40% annually compared to a storage water heater
Lifespan that can exceed 20 years
Many benefits for you and your customers
For you
Recognized technology
Easy to install and operate
For your customers
Efficient heating—modulation option
Competitive operating costs
Financial grants
Other options are also possible
These are the solutions we suggest, but many other options are also possible. Talk to
your sales representative—they'll advise you of the best options to meet your energy
needs.

Equipment rental
GMP Énergie*, a subsidiary of Énergir, has a great equipment rental program for your construction projects.