Énergir's Gas Control Center: a discreet but essential player for our customers
Have you ever heard of Énergir's Gas control Center (GCC)? The GCC orchestrates natural gas distribution across Énergir's network. It plays a critical role in the security of the gas network and in supplying the thousands of businesses that rely on this source of energy for their day-to-day operations.
Located at Énergir's head office, the GCC oversees and monitors our energy grid. They're also responsible for the nomination and optimization of intra-day supply, 24-7, rain or shine.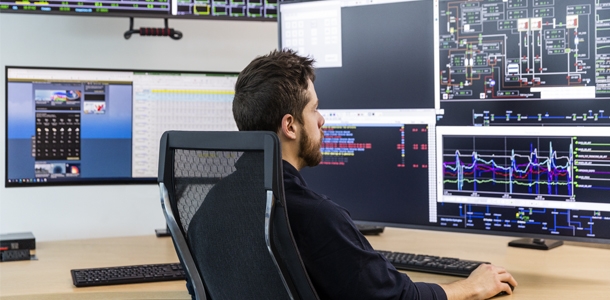 See it all, know it all
Énergir's network consists of approximately 11,000 km of pipes that serve the entire province. To monitor and respond, the GCC uses SCADA, a real-time data acquisition and control system connected to 204 stations, including: 78 delivery stations, 32 pressure reduction stations, 20 valve stations, 18 telemetry stations and 3 compressor stations. This data provides a comprehensive, ongoing portrait of the health of the network.

"When an incident is detected, we receive an alert that details the nature of the problem and when it occurred. We can then intervene directly — either remotely or by sending technicians on site, depending on the situation," explains Jean-Francois Massicotte, Group Manager at the GCC. Each incident is then logged in the system for tracking purposes.


Smart calculations

The other core mandate of the GCC is to inform TC Energy and Enbridge, Énergir's major upply transporters, of the quantities of natural gas it will need for a "gas day," which typically spans from 10:00 a.m. to 10:00 a.m. the next day (24 h). This exercise, known as nomination, involves forecasting Énergir's customer needs based on factors such as weather-based supply history (demand will be higher on colder days), trends in recent days, and the day of the week (energy use is typically lower on weekends).

GCC operators work closely with Énergir's Gas department on this forecasting work, which requires precision. "We must stay within a maximum 2% variance for the daily nomination," says Jean-Francois Massicotte. In other words, Énergir relies heavily on the accuracy of the GCC estimates to supply its customers.



Anticipating the unexpected

Fortunately, Énergir also has reserves in case the GCC estimates don't line up with the actual needs of its customers. Linepacks, in particular, are excess quantities of gas stored in our pipes. They help Énergir balance daily supply and demand and provide extra supply for anticipated peak periods (very cold days, for example). Énergir can also use its storage sites in Montreal, Saint-Flavien and Pointe-du-Lac to address potential variances between nomination and actual demand.



Quality is a priority

In addition to grid and supply security, the GCC's priority is to maintain the quality of natural gas delivered to customers. "We do a lot of pre-injection testing, particularly on renewable natural gas (RNG). If it doesn't meet our specifications, it goes back to the producer," says Jean-Francois Massicotte.


Maximum security

To prepare for any eventuality, the GCC has a backup site. This ensures business continuity if the main site isn't operational.