2020: Winds of change at Énergir
At Énergir, the new year began with winds of change, when Éric Lachance took over from Sophie Brochu as President and Chief Executive Officer. With three years of experience with the company and a career spanning more than 15 years with the Caisse de dépôt et placement du Québec, Éric brings to our team an in-depth understanding and a broad vision of the energy industry, which will help position Énergir for the future.
As Executive Vice President, Quebec, I feel privileged to be able to expand my duties within Énergir, an inspiring organization that aims to serve customers and communities in an increasingly sustainable way. Although our group wishes to continue growing beyond our borders, our activities in Québec remain at the heart of Énergir. That is why we decided to create a structure dedicated to developing our operations that fall under Quebec jurisdiction. I have had the honor of leading this group since January 1st.

In the coming months, we will focus on our energy efficiency programs to help you reduce your consumption and therefore your costs. By 2023, we aim at increasing our customers' savings in natural gas usage by 30%. At the same time, we will continue our efforts to develop the renewable natural gas industry, which offers you the possibility of reducing your greenhouse gas emissions without having to change your equipment. Finally, in addition to reducing the environmental footprint of the natural gas we distribute, we will continue to offer cleaner alternatives than the petroleum products and coal used in the industrial sectors.

I join the Major Industries sales team in thanking you for your trust. Each day, we work to provide you with the outstanding service and solutions you need.

Stephanie Trudeau
Executive Vice President, Quebec
Énergir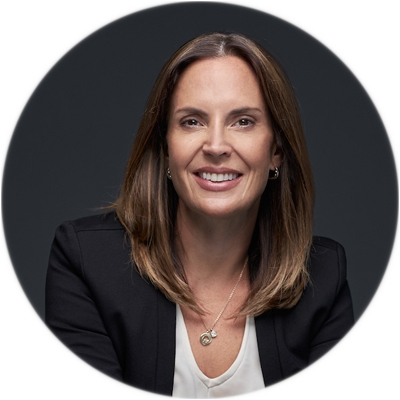 Natural gas price outlook
In the fall of 2018, the month of November brought below-normal temperatures to several parts of North America, resulting in some of the highest heating degree days in several years. In November 2019, the same phenomenon occurred, with temperatures as cold as in 2018, and even more so on some days.
The winter of 2019–2020 started with a different trend, with warmer-than-normal temperatures in December 2019 and January 2020. However, this new trend is not expected to last, with below-normal temperatures expected again in February.
That being said, and pending what the actual temperatures will be, the current winter should be different from the 2018–2019 winter mainly for two reasons.
First, due to a narrowing of the gap between natural gas production and consumption levels in the United States. In November and December 2019, US natural gas production was up 7.2% compared with 2018, and US domestic consumption was up 5.3% over 2018. This gap in growth helps reduce the pressure on continental prices.
The second factor that will distinguish the 2019–2020 winter from that of 2018–2019 is the total storage level. The level of storage recorded in the United States at the end of 2019 was 18.5% higher than that recorded at the end of 2018, and was between the historical minimums and maximums.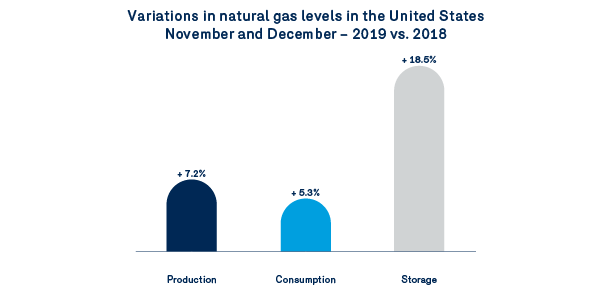 While winter may still hold some surprises in store for us, the production/consumption balance and the high storage levels are reassuring the markets in their ability to meet the needs of natural gas consumers during the final months of winter.

In early February, the markets are anticipating an average price for natural gas at the Dawn hub below $2.25/GJ for the remainder of the 2019–2020 winter. Combining this forecast with the actual prices at the start of the winter, we obtain an average price that could hover around $2.54/GJ for the entire 2019–2020 winter, which is comparable to the winter price recorded during the winter of 2015–2016 .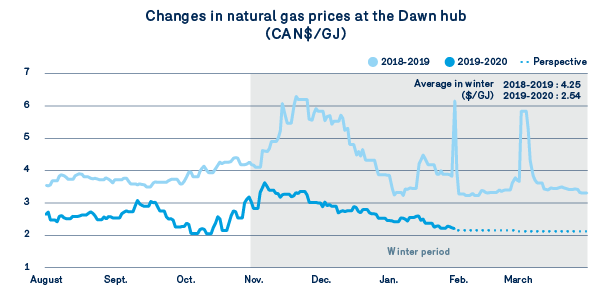 New rates apply as of December 1, 2019
As presented at the November 2019 customer meetings, new rates were proposed to the Régie de l'énergie as part of the 2019–2020 rate case. Following this proposal, a final decision was rendered on November 27, 2019. Here are the average rate decreases per service in effect since December 1, 2019.

As discussed in last May's Blue Bulletin , the decrease in distribution and transportation rates is circumstantial and temporary . This is due to overpayments in 2018 as well as lower-than-expected temperatures. The Conditions of Service and Tariff have been updated accordingly.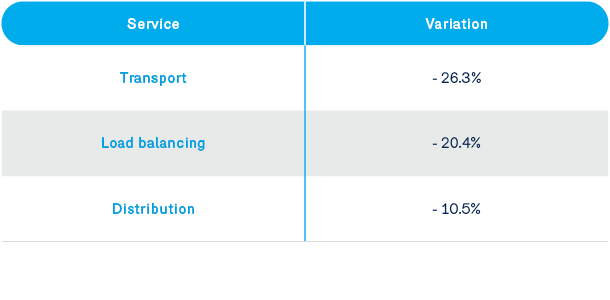 Follow-up on the RNG file at the Régie de l'énergie
On March 20, 2019, the Quebec government issued a regulation on the minimum amount of renewable natural gas (RNG) to be delivered by a gas distributor. The minimum requirement is set at 1% of total volumes distributed for the 2020–2021 year, and will gradually increase to 5% by 2025.

With the intention of meeting the regulatory obligation beginning in 2020, Énergir is working closely with the Régie de l energy to be able to sell RNG to as many interested customers as possible. In relation to this, hearings were held at the Régie de l'énergie from January 14 to 20, 2020. Following the hearings, the terms of the RNG supply contracts that Énergir intends to enter into with suppliers will be determined.

Please be assured that we will keep you informed of the outcome of this effort, and of subsequent efforts that address, among other things, the pricing strategy and obligations arising from the regulation over the longer term.
The new Energy Management System grant
As announced in the October 2019 Bulletin, Énergir has been offering a new grant since the beginning of January 2020 for its industrial customers who implement an energy management system (EMS). The grant, which can total $350,000, is divided into four distinct phases, which are spread over several years depending on your projects.
Bear in mind that Énergir offers its customers technical assistance throughout this process of continuous improvement. Feel free to contact your Énergir advisor with any questions about this new grant, or consult your Participant's Guide .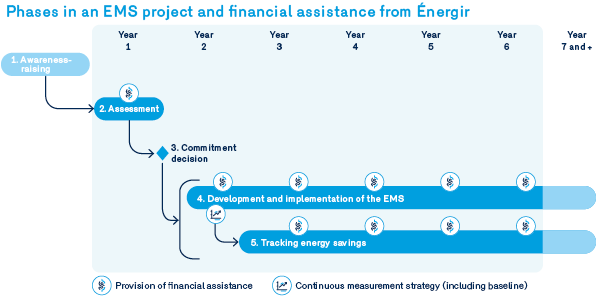 Improvements to the recommissioning grant
Since November 7, 2019, the terms and conditions of the program for recommissioning existing mechanical systems in buildings (RCx) have been modified to provide increased financial assistance, allowing us to support you even more with your projects.

Key changes to remember:
Up to $100,000 in grants (compared with $54,000 previously), and still covering up to 50% of eligible costs;
Removal of grant caps by phase, allowing for greater flexibility in the payment of grants at each phase of your project;
Opportunity to obtain grants for additional follow-up
Check out your new Participant's Guide for full details. To answer any questions you may have about these changes, feel free to contact your Énergir advisor.
Over the past three months, the price of emission units on the market has increased by US$0.46, from US$17.17 on October 21, 2019 to US$17.63 on January 20, 2020 (+2.7%).

The rise in prices can mainly be explained by:

the increase in the floor price for 2020 (now at US$16.68 from US$15.62 previously);
the announcement of a decrease in emission unit volumes up for sale at auctions, and warning signs suggesting that emissions in 2020 will be greater than originally anticipated;
the activity of speculators, who are always present in the market.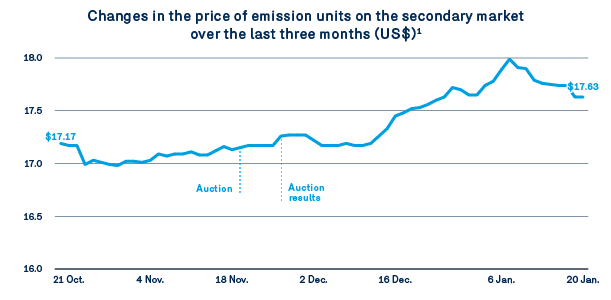 At the end of 2019, a slight drop in prices had been observed following the Trump administration's lawsuit in October 2019 against California (over the possible unlawfulness of the California-Québec carbon market linking agreement). This decrease has since been absorbed, as market participants saw no risk in the viability of the California carbon market.
Natural gas generator: Is it for you?
If you have a diesel-fuelled generator in one of your buildings, you can replace it with a natural gas generator. By making the change, you can enjoy several benefits:

Reduction in your energy costs (up to 50% cheaper compared to a diesel generator)
Reduction in GHG emissions by up to 20% compared with diesel
Simplified supply management due to the absence of a tank, which ensures you a continuous supply and reduction in the risk of spills
Discuss these benefits with your advisor and see if this solution is right for your needs!