The carbon market: outlook and evolution
Changes in CATS prices over the past three months
Over the past three months, there has been a significant increase in the price of emission units in the secondary market of about US$6.17 (+26%), from US$23.32 on August 16, 2021 to US$29.49 on November 24, 2021.
Initially, the price rose rapidly following the announcement of the August 2021 auction results from US$22.42 on August 24 to US$25.25 on August 30, 2021. The upward trajectory continued between September and November, pulling back slightly on November 16, 2021, in anticipation of the November 17, 2021 auction. Following the announcement of the auction results on November 24, 2021, prices dropped to US$29.49 (US$11.78 above the floor price). The final price for the November 2021 auction was US$28.26 for the present vintage and US$34.01 for the advance vintage.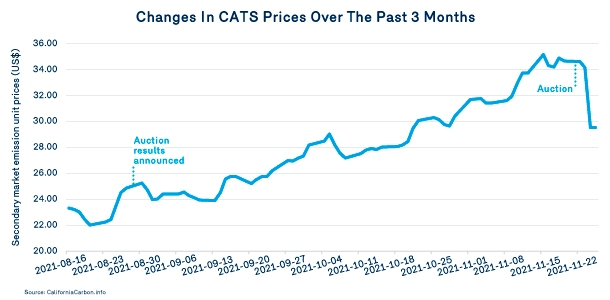 Renewable natural gas (RNG) certification

Énergir recognizes that it has an important role to play in the transition to a lower carbon economy. In this context, Énergir is investing and continuing its involvement in the development of renewable natural gas ("RNG") distribution, also known as biomethane.

RNG is a 100% renewable source natural gas that reduces greenhouse gas ("GHG") emissions in two ways: by replacing a fossil fuel with a renewable energy source and by avoiding methane emissions from the routine management of certain residual organic materials.

As part of its commitment to its customers and its desire for greater transparency, Énergir is working on implementing a solution to provide additional and independent insurance to its RNG customers. The new certification is intended to provide customers with confirmation on the following three elements through a verification process according to a standard recognized by an accredited third party:

That Énergir has sufficient inventory available for sale to cover the volumes of RNG sold to its customers annually.
That all volumes of RNG acquired by Énergir and sold to its customers are of 100% organic origin, and do not include fossil molecules.
That each RNG molecule was purchased and sold only once.


Stay tuned! More details will follow in 2022.