What's new in the C&T market?

The carbon market did not escape the COVID-19 turmoil. With the global economic downturn announcing declining GHG emissions, the price of emission units on the secondary market fell well below the floor price of US$16.68 in March 2020.
Indeed, prices fell as low as US$11.80 on March 20, 2020, resulting from, among other things, a massive withdrawal from the market by several speculators who had taken key positions over the past year. Since then, prices have been rising and reached US$15.63 on April 17, still below the effective auction floor price.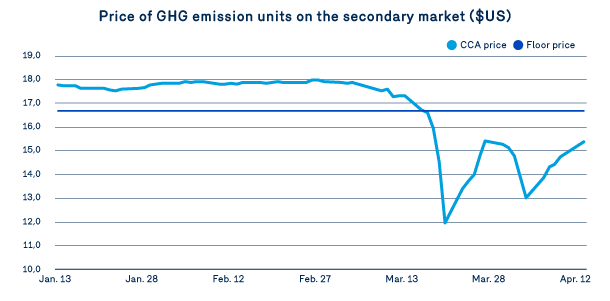 Oddly enough, according to some scenarios, the decline in short-term demand for emission units on the secondary market could have an upward effect on C&T system prices in the medium term. In the event that at the next auctions in 2020 all of the available emission units are not sold, these surplus units will be put back on sale at a later date and eventually withdrawn from the market by the governments following the regulatory deadline should they still not be sold. This could result in a permanent reduction in the emission unit supply in the context of what is only a temporary reduction in demand.

The duration of the health crisis and its effects on GHG emissions will need to be very closely monitored over the coming months to properly assess the impacts on the price changes of emission allowances under the C&T system. In the shorter term, the results of the May 2020 auction will need to be monitored and will provide a clearer picture of market impacts, at a time when the Canadian dollar has also suffered a significant devaluation against the US dollar.
---


Read the other subjects from this Blue Bulletin