Renewable natural gas: available now
The growing interest in renewable energies is real and renewable natural gas (RNG) is no exception. Our RNG supply is growing, so this is a good time to take action and secure the desired volumes. RNG consumption is flexible and can be implemented quickly, since it does not require any modifications to your equipment. For 2022, the rate is 52.729 ¢/m 3 ($13.92/GJ), plus services provided by Énergir, with the exception of Cap-and-Trade System.

Your Major Industries Sales Advisor is your go-to contact person for discussing your RNG needs, and will advise you based on:

Your opportunities according to your type of gas supply
Your current rates and the financial impact to be expected
Calculating avoided GHGs based on your past consumption


In addition, your advisor will continue to provide you with turnkey support to submit your requests, when desired.
Now available via the Customer Space
As a pillar of Énergir's vision, this product is also accessible to all of our customers with a simplified purchasing process. A portal connected to the Customer Space allows you to submit a request for RNG consumption by selecting the gas ratio to be converted and an effective date, or follow the approval of a request in with a few clicks. Request processing times currently range from 7 to 30 days, depending on your type of contract and the requested volumes.


Here is an example of the Renewable Natural Gas Space, where you can track the status of your request and download the notice of acceptance, once it has been issued.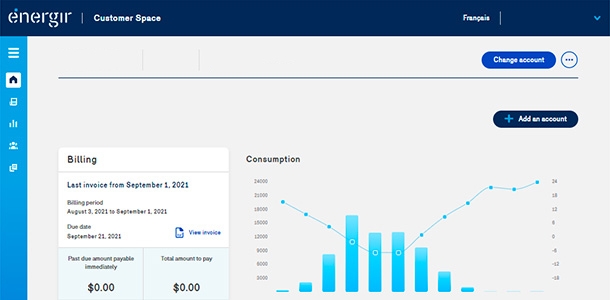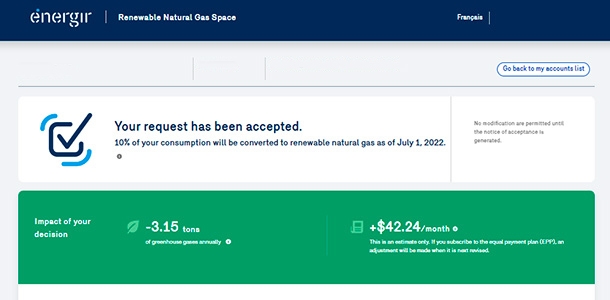 Fixed-term agreements available
The simplified RNG procurement process does not require that a specific agreement be signed. The acceptance of the terms and conditions at the time of purchase, combined with the acceptance notice, confirms your consumption parameters, which you may change, while complying with the minimum written notice.

However, it is now also possible to apply for a fixed-term RNG purchase agreement. This type of agreement allows you to commit to a minimum monthly RNG ratio to be met for the term. In return, you benefit from a guarantee on the availability of these volumes for the duration of the term.

If you are interested, please contact your Major Industries Sales Advisor.
Read the other subjects from this bulletin
Natural gas market conditions
Energy efficiency programs and industry 4.0 applied to energy efficiency
Changes in Cap-and-Trade prices