Lactalis : Optimizing its energy performance and reducing its environmental footprint
In 2017, the Lactantia (property of LACTALIS CANADA - formerly Parmalat) plant in Victoriaville decided to replace its 40-year-old steam boilers.

This was aimed at optimizing the company's energy performance and reducing its environmental footprint, as well as increasing the company's steam production capacity for 2019. In 2017, Lactalis Canada's management was preparing for a major increase in its needs due to its growing operations and the expansion of the nearby Canlac plant (for which Lactalis Canada supplied steam under a contractual agreement).


Progress of the project
To achieve these objectives, Lactalis Canada needed to invest in the construction of a new steam boiler room, and the company turned to Énergir to do so.

The approach recommended by Énergir, and approved by the plant's management, was to equip the new thermal power plant with high-efficiency natural gas boilers and adopt various energy efficiency measures. This solution would enable the company to meet its anticipated steam requirements for manufacturing processes while saving significant amounts of natural gas. This would be a financial and environmental benefit since by reducing consumption, Lactalis Canada would minimize its greenhouse gas (GHG) emissions. In addition, by building the boiler room in a new building attached to the plant, the company could continue to use its old boilers until the new equipment was commissioned.
Natural gas: A clear advantage for Lactalis Canada's needs
"For the purposes of our project, natural gas was the most cost-effective option," explained Pierre Drolet, Corporate Engineering Manager at Lactalis Canada and project lead. "We've had an excellent relationship with Énergir for more than 30 years, and the fact that they gave us access to state-of-the-art technology and grants was a decisive factor. We were able to acquire high-performance equipment more quickly while accelerating the return on our investment."

Picture : Boiler room – from left to right : Guy Desrosiers, eng., Technical Advisor, Major Industries, Énergir; Matthieu François, eng., Advisor, Major Industries, Énergir; Pierre Drolet, eng., Corporate Engineering Manager, Lactalis Canada.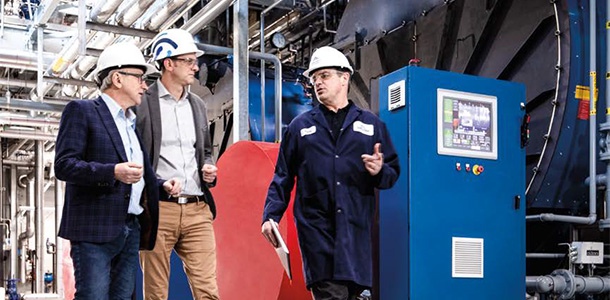 Boiler room 2.0: The numbers speak for themselves
Two years later, in 2019, Lactalis Canada's new steam boiler room was running at full capacity, delivering a highly satisfactory performance: "We've achieved energy efficiency of nearly 92% for the entire building. Now, that's impressive!" said Drolet.

Built at a cost of $7 million (including the building), this new thermal power plant houses two natural gas boilers with a host of energy efficiency features that generate combined savings of more than $500,000 per year. It also has a solar wall that, by preheating the fresh air that feeds the boilers, reduces energy bills and GHG emissions. By using this equipment and implementing energy efficiency measures (e.g. preheating, heat recovery and control systems), Lactalis Canada has not only been able to increase its steam production by 50%, but also reduce its annual natural gas consumption by 1.76 million cubic metres.

This project clearly illustrates a principle of energy efficiency that we firmly believe in: the best kind of energy is the energy we save.
Read the other subjects from this Blue Bulletin