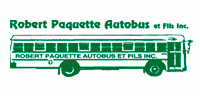 Case study - Robert Paquette Autobus et Fils Inc.
Established in 1968 when it was awarded six school contracts, Robert Paquette Autobus et Fils Inc. now operates 140 vehicles and employs 140 qualified people. The company provides services for schools and cities, as well as extracurricular trips and organized groups. When it started looking at a more cost-effective and energy-efficient heating solution, the company had faith in its heating contractor's experience and insight.
Robert Paquette Autobus et Fils received grants of
$7,275
Robert Paquette Autobus et Fils saved up to
30%
of costs.
An initiative that holds water

Thanks to a wise investment and their plumber's recommendations, which also helped them garner $7,275 in financial assistance, the company was able to set up two unit heaters , one condensation boiler , four infrared heaters and one water heater for the radiant floor.
Not only did this initiative allow them to reduce their annual heating expenses by up to 30%, but it also increased employee comfort, making it a greener, cheaper and more reliable option for greater peace of mind.
Grants available for your business
Take advantage of Energir grants to add or replace natural gas equipment and reduce your energy costs. In addition to offering a better performance, natural gas is cheaper than electricity and fuel-oil.