At Collège de Lévis, heating was supplied by boilers from 1970. This equipment, which was not modular and had a capacity greater than the building's actual needs, used up too much energy. Beyond that, the steam system was causing overheating and significant energy loss.
The new heating system uses
32%
less energy
Reduction in GHG emissions
31%
Une cure de jeunesse énergétique
Dans un vieux bâtiment de 165 ans, remettre à neuf un réseau de chauffage est un solide défi! Mais, avec les subventions et le soutien des experts de chez Énergir et de la firme Ecosytem, il a été possible de repenser le système de production et de distribution de la chaleur : conversion du réseau de chauffage de la vapeur à l'eau chaude, remplacement des chaudières par des appareils à haute efficacité et implantation de mesures complémentaires.

Le projet a été l'occasion de redonner à la chaufferie ancestrale des allures de jeunesse. Ces changements majeurs favoriseront une bien meilleure performance énergétique à long terme.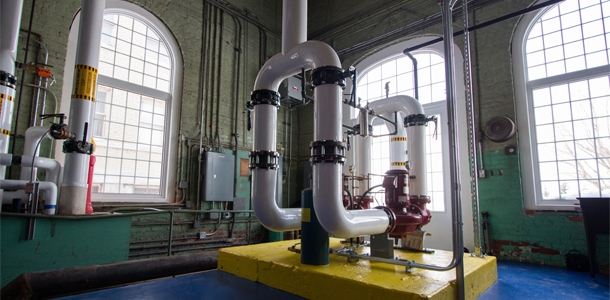 Des économies d'énergie au rendez-vous
Plus stable, efficace et confortable, le nouveau système de chauffage consomme 32 % moins d'énergie qu'avant. Par le fait même, il permet de réduire de 31 % les émissions de gaz à effet de serre.

Les économies de coûts engendrées par le nouveau système serviront maintenant à la mission première du collège : améliorer les services offerts aux jeunes.
Grants available for your business
Take advantage of Energir grants to add or replace natural gas equipment and reduce your energy costs. In addition to offering a better performance, natural gas is cheaper than electricity and fuel-oil.