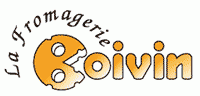 Case study - Fromagerie Boivin
Fromagerie Boivin is a family business founded in 1939 that makes some of Quebecers' favorite cheeses. When the La Baie factory was consumed by flames in 2011, company directors decided to start fresh.
Fromagerie Boivin received grants of
$100,000
Annual savings of Fromagerie Boivin are
$100,000
Cleaner, more performance and less costly
Before the fire, the factory used biomass and heating oil to power production. Equipment maintenance was demanding and the emissions went against the sustainable development values ​​​​advocated by the company. The 2011 disaster provided an opportunity to rethink their energy mix and consider a cleaner and more cost-effective energy.
After assessing the possibility of Fromagerie Boivin converting to natural gas, Énergir proposed extending its distribution network 3 km so that they could install new natural gas boilers . The results are annual savings of $100,000 that can be reinvested in improving the factory's productivity and reduced greenhouse gas emissions that make for a more positive energy and environmental balance.
Grants available for your business
Take advantage of Energir grants to add or replace natural gas equipment and reduce your energy costs. In addition to offering a better performance, natural gas is cheaper than electricity and fuel-oil.